Dans cet entretien, déjà publié à l'automne 2014, Vannina Boussouf, directrice de l'école primaire du Lycée, explique comment promouvoir et célébrer le bilinguisme chez l'enfant.
Vannina Boussouf a toujours évolué dans un monde multilingue. Son nom et son prénom reflètent ses origines: un grand-père algérien (kabyle), une arrière grand-mère turque, des racines corses. Ayant grandi et vécu sur cette île de beauté ou le bilinguisme fait partie intégrante de la culture et de l'identité régionale, elle a toujours été attirée par les langues étrangères; elle a donc tout naturellement suivi des études d'anglais et d'espagnol à l'université de Corse puis à l'université de Philologie et lettres de Cordoue en Espagne.
Le désir de travailler avec de jeunes enfants s'est imposé très vite et le choix d'une carrière de professeur des écoles, puis de directrice, fut évident. En 2005 Vannina part vivre aux Etats-Unis: elle enseigne d'abord à l'International School of Louisiana, une Charter School au double programme franco-espagnol, puis en 2007 elle prend ses fonctions de directrice du Primaire au Lycée Français de New York où son intérêt se concentre sur l'application de méthodes pédagogiques innovantes favorisant un enseignement holistique pour des élèves en situation de bilinguisme.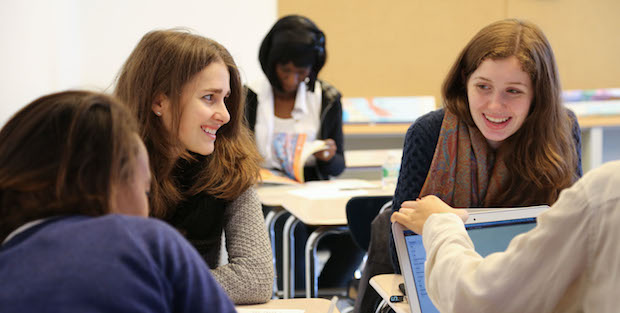 Des élèves de terminales travaillent en groupe dans un cours d'histoire-géographie.
Selon vous, pourquoi de plus en plus de parents souhaitent que leurs enfants reçoivent une éducation bilingue? 
Par le passé le bilinguisme a souffert de nombreux préjugés: soupçonné de provoquer de la confusion mentale, d'être à la source de l'échec scolaire, d'entraver le développement langagier des enfants, parler plus d'une langue n'a pas toujours été perçu comme un avantage. Souvent liée à l'immigration, la situation de bilinguisme a longtemps été associée à tort à des résultats scolaires médiocres ou une mauvaise maîtrise de la langue majoritaire.
Aujourd'hui la tendance s'est inversée et il est intéressant de constater que même parmi les familles monolingues, de nombreux parents sont désireux de pouvoir donner à leurs enfants une éducation bilingue et biculturelle.
L'avancée et la diffusion de la recherche dans des champs tels que la sociolinguistique, la psycho-linguistique et la neurobiologie ont permis de réduire à néant les préjugés négatifs liés au bilinguisme tout en révélant les atouts éducationnels, culturels, sociaux, économiques et même politiques du bilinguisme.
Parler plusieurs langues se traduit souvent par un développement social, culturel et éducationnel riche et varié.
Parmi ceux-ci, l'avantage qu'il y a de pouvoir communiquer dans plus d'une langue est le plus évident. Pendant l'enfance cela se traduit souvent par un développement social, culturel et éducationnel riche et varié lié à la multiplication des opportunités d'avoir des intéractions et de créer des liens d'amitié avec des individus parlant une des deux langues.
Au niveau du développement intellectuel de l'enfant, la recherche a montré que le fait de pouvoir associer plusieurs mots pour un objet ou une idée permettait aux bilingues d'avoir une pensée plus flexible et plus créative car moins fixée sur un seul signifiant. Habitués dès l'enfance à changer de langue en fonction de leur interlocuteur les bilingues ont également une plus grande sensibilité à la communication.
À ces avantages sociaux, culturels et éducationnels, s'ajoutent de potentiels avantages économiques et politiques. À l'heure où les techniques de la communication ont permis de dépasser les notions d'espace et de temps, la maîtrise de plusieurs langues est la dernière condition pour pouvoir communiquer et développer des relations avec un nombre considérable de personnes d'horizon et de cultures diverses. De plus, dans un monde de plus en plus global, dans lequel les relations internationales se multiplient, les partenariats entre les pays se développent il y a aussi incontestablement un avantage économique et politique à parler plusieurs langues et à comprendre plusieurs cultures.
Estimez-vous que l'enseignement bilingue soit un processus naturel permettant d'améliorer les compétences cognitives des élèves?
À l'école maternelle.
La plupart des gens qui ne parlent qu'une seule langue pensent qu'ils font partie de la norme. C'est en fait une croyance erronée car à travers le monde, les bilingues ou polyglottes représentent la majorité.
Mon expérience confirme que tous les enfants ont le potentiel pour apprendre à parler plus d'une langue. Ceci dit, le développement des aptitudes langagières varie considérablement d'un enfant à l'autre que cet enfant soit bilingue ou non. Je veux dire que le fait même qu'il y ait plus d'une langue en jeu lors de l'apprentissage du langage ne sera pas un facteur défavorable pour un enfant bilingue.
Certains enfants monolingues développeront rapidement leurs compétences langagières, d'autres mettront plus de temps, il en va de même pour les enfants qui apprennent plusieurs langues.
En fait, l'apprentissage du langage chez l'enfant doit être mis en perspective par rapport à de nombreux facteurs: la personalité de l'enfant, ses aptitudes intellectuelles, son développement social, la qualité et la quantité des interactions avec ses parents, ses pairs, les membres de sa famille et les gens autour de lui, la variété des interactions langagières et le niveau d'engagement et de stimulation créé par son environnement en ce qui concerne la ou les langues ciblées.
On comprend donc que le rythme de développement et le niveau de maîtrise des deux langues ne soient pas forcément homogènes et varient considérablement d'un enfant à l'autre. Un environnement d'apprentissage stimulant dans lequel le langage est appris dans des situations de communication authentiques et engageantes centrées sur l'enfant, associé à une attitude positive des parents vis à vis du bilinguisme de leur enfant donnera généralement d'excellents résultats.
Plus de flexibilité et de créativité dans la manipulation des concepts.
Les bénéfices au niveau du développement cognitif de l'enfant existent. Le bilinguisme, en permettant d'associer plusieurs mots aux objets et aux idées, assouplit la relation entre le signifiant et le signifié et permet à l'individu de manipuler les concepts avec plus de flexibilité et de créativité. Si par exemple on demande à un enfant bilingue franco-américain ce que l'on peut fabriquer avec une baguette, il pensera sans doute à toutes les associations possibles avec le mot baguette en français et en anglais (baguette magique, baguette de pain, règlisse, chef d'orchestre, petit bâton, etc…mais aussi lipstick, glue stick, to stick, stickers, etc… car "baguette" se traduit par "stick") et donnera sans doute une réponse plus originale ou surprenante qu'un enfant monolingue.
Il a été aussi observé par la recherche que les enfants bilingues attachent plus d'importance au sens des mots qu'à leur image acoustique, ce qui leur permet de rentrer plus facilement dans la lecture et la compréhension de texte.
Enfin, les enfants bilingues sont habitués très jeunes à adapter leur langue en fonction de leur interlocuteur ce qui développe chez eux une plus grande sensibilité et plus grande ouverture à l'autre et par conséquence leur donne de l'aisance dans les échanges sociaux et verbaux.
Un cours d'allemand au collège.
Dans votre propre vie, combien de temps passez-vous à penser dans une langue par rapport à une autre? 
Je ne suis devenue "bilingue" que tardivement dans ma vie: la proximité entre la corse et l'Italie a fait que j'ai pu développer des amitiés avec des Italiens qui m'ont conduit à maîtriser cette langue assez bien (d'autant plus que je l'étudiais au lycée en plus de l'anglais et de l'espagnol)
J'ai ensuite suivi des études de langues étrangères (espagnol et anglais) et ai passé plusieurs mois à Cordoue pendant l'année de maîtrise.
Durant mon enfance, le corse a toujours été présent mais il s'agissait plutôt d'un bilinguisme passif. Mon grand père algérien ne parlait pas l'arabe, ni le turc avec ses enfants et mon père a donc été élevé en français. Ma mère a été également élevée en français.
La situation de bilinguisme ne représente pas la somme de deux monolinguismes, il s'agit d'une situation linguistique unique.
Cependant mon expérience à ce sujet est qu'avec une langue se transmet tout un système de valeurs, d'attitudes, de comportements, de façons de s'exprimer, de traditions, de proverbes, chansons, berceuses qui nous donnent à voir le monde d'une certaine façon. Si l'on ajoute la littérature, l'histoire, les rituels associés à chaque langue il est évident qu'en utilisant une langue nous entrons dans un univers unique, une façon particulière de voir et d'interpréter le monde.
Le français est ma langue maternelle et celle avec laquelle je m'exprime le mieux que ce soit à l'oral ou à l'écrit. J'ai cependant grandi en Corse et seuls certains mots ou expressions en langue corse peuvent parfois réellement rendre compte de ce que je ressens. Ils sont intimement associés à des échanges, des sentiments ou des émotions de mon enfance et leur traduction en français ne peut qu'être imparfaite ou incomplète.
La situation de bilinguisme ne représente pas la somme de deux monolinguismes, il s'agit d'une situation linguistique unique née de la combinaison de deux langues différentes qui enrichissent et sophistiquent la compétence langagière des bilingues. De même, la biculturalité n'est pas la somme de deux cultures juxtaposées l'une à l'autre mais une façon unique de percevoir et d'interpréter le monde.