Si vous étiez à New York l'été dernier, peut-être avez-vous eu la chance de voir la merveilleuse exposition "Manus x Machine: la mode à l'ère de la technologie" au Metropolitan Museum of Art.
Cette présentation était particulièrement captivante car elle a permis à un grand nombre de visiteurs de découvrir pour la première fois des modèles de Haute couture aussi rares que magnifiques, comme par exemple la robe "Sardine" dessinée par Yves Saint Laurent en 1983. Mais cette exposition était exceptionnelle aussi car elle a fait passer un message d'importance pour notre époque: plutôt que de considérer l'art fait à la main comme naturellement supérieur à la création assistée par une machine, les spectateurs venus au musée étaient incités à voir que  "l'acte créatif" est le même dans les deux cas, pour paraphraser YSL lui-même.
Ou pour citer le conservateur de Manus x Machina, "plutôt que d'opposer le fait main et le fait machine, nous nous sommes efforcés d'expliquer un éventail ou bien une continuité dans la pratique qui démontre que le manuel et la machine contribuent à égalité dans la résolution des problèmes de conception, dans l'amélioration des techniques de design et, finalement, dans la construction de l'avenir de la mode."
Créer un dialogue pour intégrer la science, la technologie, l'ingénierie et les mathématiques avec l'art, et tout ce que ce dernier implique, est au cœur de notre vision stratégique pour les années à venir. La mise en oeuvre de ce projet d'établissement est rendu possible grâce à la conjugaison de plusieurs facteurs: un nouvel espace, un nouvel apport en personnel et de nouvelles expériences d'apprentissage pour nos élèves.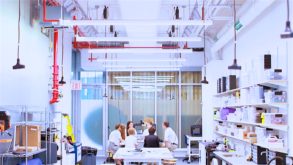 En ce qui concerne la première dimension, vous avez probablement déjà entendu parler du makerspace dernier cri que nous venons d'ouvrir, équipé de marteaux, de scies, de machines à coudre et d'imprimantes 3-D, sans oublier un appareil de découpe au laser, parmi une multitude d'autres outils. Cependant, si vous n'avez pas encore eu l'occasion de le voir, nous vous invitons à venir le découvrir lors de la York Wing Community Day qui aura lieu le samedi 12 novembre. Comme vous le constaterez alors par vous-mêmes, ce nouvel espace est un lieu exceptionnel pour le bricolage, la conception, la fabrication de prototypes et la construction de presque tout ce dont un élève pourrait rêver.
Pour nous aider à tirer le meilleur parti possible des opportunités pédagogiques sans précédent que le makerspace nous offre, nous sommes très heureux de pouvoir faire appel au talent incontesté d'un nouveau membre de notre équipe éducative au Lycée Français de New York: Adam Romary.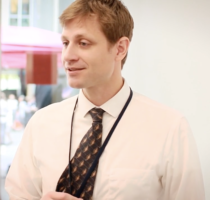 Avec 15 ans d'expérience dans l'enseignement des sciences, de l'ingénierie et du design dans plusieurs écoles indépendantes et publiques de renom aux États-Unis, M. Romary est voué au développement d'une culture du making au LFNY. Il explique que "l'objectif ultime pour un makerspace est d'ouvrir l'horizon à des apprentissages entièrement dirigés par les élèves", tout en reconnaissant que chacun aura un point de départ personnel différent et des besoins spécifiques au fur et à mesure qu'il avance sur son chemin. Lors d'une récente conversation, il m'a raconté l'histoire de la fabrication d'un go-kart avec son père quand il était encore à l'école primaire et comment au cours de ce projet il est passé d'un désintérêt pour le génie mécanique à la découverte de ce qui est devenue sa passion inaltérable pour le making.
Pour Mr. Romary, chaque élève a en lui un potentiel créatif qui n'attend qu'à être exploité. Le makerspace démultiplie donc les chances qu'a chaque individu de trouver et de cultiver le mode d'expression qui lui est propre.
De son point de vue, "nous sommes tous intrinsèquement des créateurs, heureux surtout lorsque nous inventons et tentons d'améliorer le monde qui nous entoure." Je lui ai demandé si les outils auxquels les élèves ont accès doivent forcément être à la pointe de la technologie. "Oui et non" m'a t-il répondu après quelques instants de réflexion. Non, parce qu'ils peuvent et doivent savoir comment aiguiser leur créativité sans avoir un laser sous la main. Mais en même temps oui, parce que le niveau de sophistication offert par les technologies d'aujourd'hui permet de libérer nos élèves de nombreuses contraintes et leur permet ainsi de se concentrer sur les aspects purement créatifs du processus de fabrication. Tous ne deviendront pas ingénieurs aéronautiques, architectes ou designers; pourtant tous pourront cultiver la créativité et les compétences d'innovation qui découlent d'un enseignement basé sur l'invention.
Ce qui me conduit aux nouveaux programmes que nous sommes en train de mettre en place,  qu'ils s'agissent de projets interdisciplinaires basés sur le curriculum appelés "parcours" ou d'activités co-curriculaires axées sur la robotique. Cette semaine, notre makerspace a été occupé à plusieurs reprises par nos élèves de Seconde, en compagnie de l'artiste en résidence Béatrice Coron. Reconnue pour l'esthétique exquise de ses papiers découpés, qui, exposés en frise à  l'intérieur des wagons du métro de New York il y a cinq ans, ont plus d'une fois distrait les usagers, "leur faisant rater le bon arrêt," Béatrice Coron a commencé son séjour chez nous en initiant nos classes de tenth grade à l'histoire fascinante de l'art du papier découpé à travers le monde. Elle les a ensuite entraînés  sur le chemin de la découverte personnelle de la création sur le thème du voyage. En utilisant du papier, des crayons, des couteaux de poche et de la colle, assistés par un logiciel informatique et notre appareil de découpe laser, et guidés à tout moment par une artiste extraordinairement inspirée,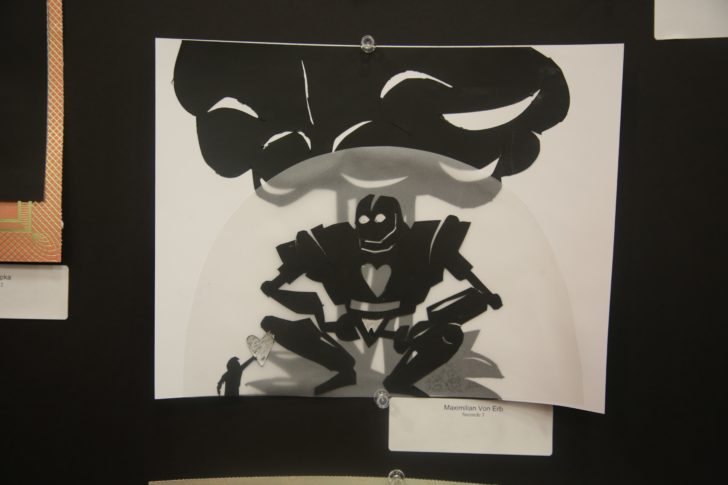 nos élèves de Seconde ont pu se jeter tête baissée dans l'émulation désordonnée qui accompagne tout processus inventif,  traduisant leur créativité sous forme d'images magnifiques. Tous ceux qui ont assisté à la présentation finale de leurs travaux vendredi après-midi ont été fascinés. Amis du Metropolitan Museum of Art, préparez-vous. Une nouvelle génération de créateurs arrive!