It's 3:45pm on a wintry Friday in the Primary School, and six students are gathered with their intermediate Arabic teacher, Susynne McElrone, for a lively 75-minute class. The students have divided into two groups to work on a word game to help them identify vocabulary and build sentences in Arabic. They were given a series of three sentences in English and a collection of color-coded words in Arabic. The objective was to create the sentences in Arabic, which is read right to left, with the words.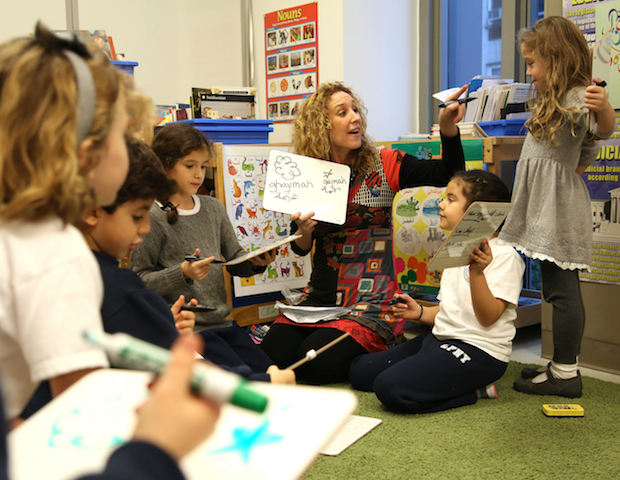 Susynne McElrone, teacher of Arabic in the afterschool, studies astronomy with her 1st and 2nd graders. The word "Ghaymah" written on the white board means "cloud".
Reading and writing in Arabic takes practice and concentration, as there is much to remember, and it's hard to draw comparisons to western languages says Susynne. Arabic is a cursive script with 28 letters that can have as many as two to four forms depending on where they're placed in a word. Short vowels are symbols written above and below letters in each word that also shift and change depending on how the word is being used.  In short, learners have to think of a lot of things simultaneously, and recognizing patterns is essential.
Arabic words are built on three-letter roots. Each root has a general meaning and words created from that root generally can be related in some way to the root.
"What's a word that you see in each of the three sentences?" asked Susynne of the students. "Can anyone find the word for wander?" she continued. "You've already learned the word for circle ("DaWRa") and wander is like going around in a circle ("yaDURu")…"
"I found wander!" said Thomas. The children were making the connection.
Arabic has many different dialects spoken across North Africa and the Middle East. At the Lycée, students are learning Modern Standard Arabic (MSA), often used in formal and international communication. MSA is also the standard for teaching Arabic at the university level outside Arab countries.
"With MSA, students have the flexibility to communicate the language more widely," says Susynne, who has just completed a PhD in History and Middle Eastern Studies at NYU. "That flexibility is key, as many of the students have family from different regions, and we want to help them stay connected with those roots, but also to build a skill for the future."
Progression
The Lycée offered Arabic for the first time in 2014 in its after-school program at the beginning and intermediate levels. This year an advanced level was added with the objective of building an after-school program in Arabic that students can follow progressively throughout their schooling here. Eventually, the school may add Arabic as a language option for all Secondary students in World Languages (LV2).
"We are developing Arabic in much the way we would like to evolve our after-school program, with students starting at beginning levels in languages, computer science, theater, etc. and moving up a level gradually each semester so they see real progression and learning," says Zara Ruelle, Director of After-School Activities.
When Susynne started teaching Arabic at the Lycée a year ago, her first objective was to get a clear understanding of the level of the students in the program. Many of them are heritage learners, but their overall exposure had, for the most part, been informal. Very few knew how to write the Arabic alphabet. Some, like her student Sarah, have lived in the Middle East before moving to New York, and their parents see the value in continuing to study it.
She discovered a group of students at many levels, who were eager to learn, and also who, as bilinguals, already had a natural understanding of learning how to learn languages. Most every student has continued with Arabic this year, and they note real progress. Susynne was thrilled to find out that a few of her students who had traveled to see family in the summer had been able to read and identify words in stores, or talk to their cousins and grandparents. "When they do that they get really excited," she said.
Footprints
On that Friday afternoon, one of the students' favorite games of the class was footprints. Susynne had laid out a path of cut-out footprints on the classroom floor with Arabic numbers written out in word form on each one. The students were to walk along the steps on the floor to read aloud the numbers as they took each step.

They looked a little nervous at first, but then one student, Yanis, felt bold. "I shall take the risk to walk down the path of numbers," he said. He took a step forward…