Before arriving to Hué's primary school, we had a fairly clear idea of what to expect: a few classes of thirty or so students, who all had at least a basic level of English. We made a lesson plan based on those assumptions, yet the reality was not at all what we had expected.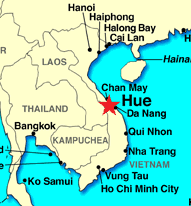 The classrooms were located around the recreational area, where the students played soccer, badminton, or just ran around. The classrooms were not what we had expected at all, and it was here where the astounding effort and time put into the school were most visible. The classrooms had chalkboards, wooden desks and chairs, and numerous posters that gave life to the classroom. When we started teaching the kids how to brush their teeth, we quickly realised something. They didn't know English at all. We tried approaching the teachers, but they too did not speak English.
As we walked into the class, we were greeted by 27 voices singing the "Itsy-Bitsy Spider" in Vietnamese. At first, we followed the lesson plan we had made. Yet, after a minute or two of blank stares and no responses, we realized that the children spoke no English. Seeing that we would not be able to rely on words to explain to them how to brush their teeth, we decided to improvise. What are the two things everyone has in common? Gestures and sounds. We divided the teeth-brushing in 5 steps, each associated with a certain gesture and/or sound.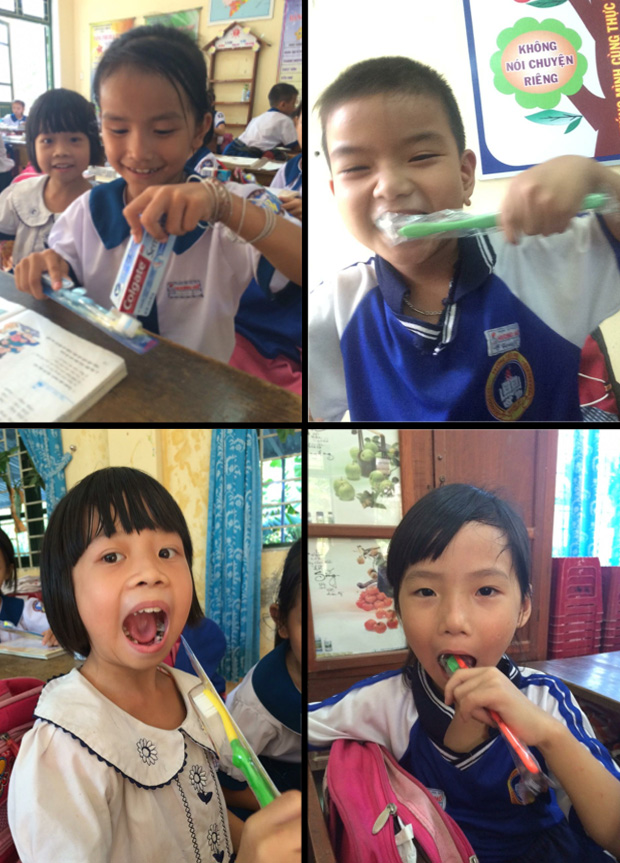 1. Putting the toothpaste on the toothbrush 2. Brushing the front teeth ("iiiiiiii") 3. Brushing on the left side ("aaaaaa") 4. Brushing on the right side ("aaaaa") 5. Spitting ("pfuh")
This proved to be successful, and the children were soon eagerly following along.
We were pleasantly surprised by the amount of effort put into the school. It was small but welcoming, and served almost as a safe haven for the students. The students and the staff were very friendly and cheerful, and the overall teaching about dental hygiene was enjoyable.
Nevertheless, the visit was marking. Despite the effort put into the school, despite the kindness shown to us, Vietnam's poverty was still present. The bathrooms lacked running water, forcing the children to wash their hands in a filled sink, and many of the school supplies, such as the books, were worn and old.
The poverty was not only present in the school, but also so among the children themselves; some the children had cavities and their teeth were spotted with black, while others' clothes were dirty.
It was strange to see that even in such joyous place misery was possible, that even with the tremendous effort put in the school, poverty was still present. Our visit to school taught us many things, but most importantly, that one can never do enough.
Written by Philippe, Axelle and Jules-Henri, Y10 students.