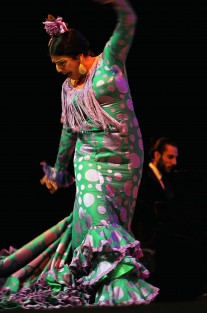 How did you get into flamenco?
I discovered Flamenco in New York right after graduating from the Lycée, but I had been studying other styles of dance (ballet, tap and jazz) at Broadway Dance Center from a young age. My experience at the Lycée definitely had a lot to do with becoming an artist, although I didn't know it at the time. I was always interested in the arts, film, and music, yet I never imagined I would become a performer.
Since I can remember, I wanted to become a filmmaker and consequently studied Film at Columbia University. But the flamenco bug bit me and I moved to Spain after graduation to go deeper into the culture. A year abroad turned into fourteen years of pursuing my passion and it's been quite a ride.
The artistic exposure I had at the Lycée made an impact on my path today.
Actually, the first time I performed on a stage was at the Lycée in the Salle d'Honneur at the 95th Street building. Mr. Loumbrozo and Mrs. Macphee put on a production of the French operetta "Véronique" when I was in 3ème. It was thrilling to be a part of the whole creative process and we all had an amazing time connecting through music and theatre.
Looking back, the artistic exposure I had at the Lycée made an impact on my path today and it opened doors of which I would have otherwise been unaware. My sister Soraya (LFNY Class of '98) had a similar experience. She participated in and won the Shakespeare competition at the Lycée and is now a talented and accomplished actress.
I also have to say that the discipline the Lycée instilled in us as students, the structure, education and punctuality, has also strongly influenced my work ethic and drive as an artist. The Lycée is a tough school, but I feel grateful to have had this enriching educational background.
Leilah Broukhim on the Lycée's patio on october 2nd, 2014.
Why did you decide to give a performance at the Lycée?
Claude Aska from the Alumni Relations department contacted me a few years ago about performing at the Lycée. On one of my trips to New York, I met with Claude and Pascale Richard, the Director of the Cultural Center, at the Lycee's new building to discuss the possibilities and was given a tour of all the facilities. I couldn't believe my eyes. Having gone from Nursery to Terminale passing through all the three buildings (72nd, 95th and 93rd), seeing the entire school under one roof with a cafeteria, gym, theatre and all the cultural activities and new programs available, I knew that I somehow wanted to be involved. Performing at the Lycée is very symbolic for me and I am sure it will be an emotional experience.
We are connected by this common experience, the experience of being in a foreign school in New York City.
What do you see your role as an LFNY alumna?
Just as I had no idea I would ever become a Flamenco dancer, there are many young students who as we speak may not have yet tapped into their artistic sensibilities. I believe that alumni involvement can have a positive impact by showing current Lycée students all the possibilities, creative and other, that exist when you enter the adult world. High school is a time of adjustment and self-discovery and if students have examples of people following their dreams and doing what they love, they can broaden their horizons and feel inspired to do the same. As for the alumni, I am glad that as a result of the performance at the Lycée we will have a little reunion of classes of '96, '97 and '98 to reconnect with old friends.
When I look at all the people from my class and see how accomplished and diverse they are, there are so many people who can bring a positive influence to Lycée students today. The school has definitely evolved and grown but the essence I believe is still there. We are connected by this common experience, the experience of being in a foreign school in New York City, and when we are in it we may not realize all the advantages, but sharing the experience can begin to unleash all the potential.
Pour voir ou revoir le spectacle de flamenco de Leilah Broukhim au LFNY, veuillez cliquer sur la vidéo ci-dessous (scroll to 2:45 to see her appear on stage).