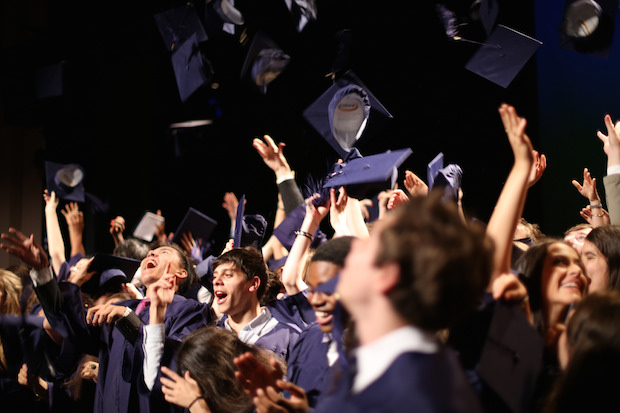 Students throw their graduation caps in the air following their graduation ceremony in June 2014.
The Class of 2014 was bold. They had the audacity to apply to some of the oldest, most selective universities in the world, as well as the newest and most innovative programs in international higher education. We're happy to report that they were very successful in their admissions. You will see many renowned institutions on their matriculation list, evidence that all members of the LFNY Class of 2014 found a quality program or plan to fit their individual goals.
Two points stand out in relation to their college choices, as a couple of trends we've been observing at the Lycée have crystallized with them and are evidenced in the uniqueness of their choices.
Multinational programs growing in popularity
Five of our students chose programs offered between two or more international universities or countries. These include the World Bachelor in Business offered by Università Bocconi and Global Bachelor Dauphine à Londres.  These are relatively new programs, and our students are some of the first worldwide to take advantage of them.
As all of these programs reflect the multicultural aspects of a Lycée education, we expect that as more multinational programs are developed (and there are more every year), more Lycée students will select these options for their final choice.  It is interesting to note that our applicants to French institutions were more likely to matriculate in a multinational program that included a French university.
Applications filed at over 200 unique institutions worldwide
Applications were filed at over 200 unique institutions worldwide in 2013-14. This unusually varied list indicates that our students are investigating universities with their own needs in mind, rather than following national trends, lists of rankings, or the inclinations of their classmates.
Class of 2015 even more adventurous
If the Class of 2014 opened the door to further exploration into international higher education markets, then the Class of 2015 is poised to step firmly over the threshold.  In the second week of school, this year's Terminale students were asked to fill out a preliminary survey about their post-graduate intentions. The analysis shows an even more adventurous spirit in this class: a full 13% of the class (12 of 89 students) responded that they planned to apply to universities outside of our usual regions – an all-time record. The countries they listed include Russia, Turkey, Singapore, Hong Kong, and Australia.
We look forward to counseling our students at this unique moment in college admissions at the Lycée and reporting their final decisions to you at this time next year.
Watch a video detailing the Science Po-Columbia dual program.
Click here to view where the LFNY class of 2014 has matriculated.