As a result of Hurricane Harvey, the Lycée Français de New York and the Lycée International de Houston (LIH) have forged a bond that will only get stronger as the years go one. After Harvey hit, the Lycée reached out to several francophone educational institutions in Texas and was gratified when the newly founded Lycée International de Houston responded to its call to help.
The first emails from Karine Pousset, LIH's Head of School and all of which are authorized to be shared, explained the difficult situation on the ground:
"Nous avons eu une dizaine de familles dont les maisons sont toujours inondées et nous ne sommes que trois dans le staff et faculty a avoir nos maisons inondées. L'école est en fonction. Les livres de la bibliothèque et des classes du primaire ont été endommagés. Par chance les manuels et les appareils numériques placés un peu plus haut sont épargnés."
"Nous devons également refaire l'installation de notre playground."
"Mes efforts se sont portés principalement sur les familles et les professeurs du Lycée. Je suis contente d'annoncer aujourd'hui que tous ont désormais des vêtements, quelques jouets, un nouveau logement, une voiture de location, des meubles, de la vaisselle et du linge de maison. Nous nous attelons désormais à organiser la démolition partielle (le premier étage) de nos maisons (couper les murs, enlever les sols, abattre les arbres, détruire les meubles des salles de bain et cuisine) afin que de pouvoir dans quelques semaines reconstruire."
"Nous avons une psychologue française et une psychologue américaine qui accompagnent les familles, les élèves et les professeurs afin de pouvoir aller de l'avant."
From there, we asked LIH to put together a wish list of classroom library books that were lost to the floods. Once the list was received, we reached out to our two APL co-chairs and the greater Lycée community to help coordinate the book drive.
Thanks to our community's generous response, we were able to send the Lycée International de Houston a total of 8 cartons of books. Additionally, our Parents Association made a generous donation to LIH which provoked this response from Karine:
"Nous avons reçu une incroyable surprise de la part du Lycée, de l'association des parents d'élèves. Mille mercis, c'est formidable, nous allons utiliser ce don pour notre bibliothèque.
Vous nous avez beaucoup gaté. Nous vous en sommes très très reconnaissants."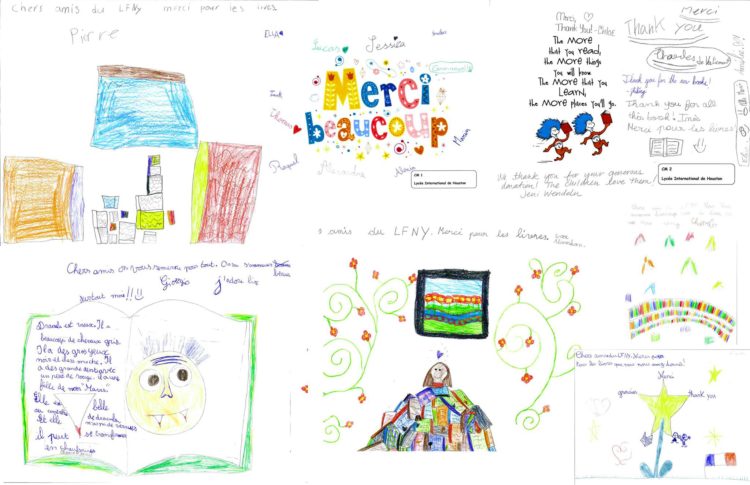 Following Karine's email, we received  an envelope chock-full of thank you cards from LIH's primary students: