I bumped into a Lycée dad on the way into school on Thursday. We got to talking about the oodles of video projects he's been working on. He seemed really happy to be so busy…"Of course I'm happy," he said. "I'm doing something I love."
He continued on about how important it is to find a passion, and how, as a community of adults, we should all be supporting our students in finding their passions and their interests. Perfect!, I thought. That's just what our renewed mission statement calls us to do, but it does so in the particular context of a propensity toward service to others. His eyes lit up!
"We have a saying in business nowadays, 'Feeling well by doing good,'" he said, and that was just the feeling I had interviewing three lycée students this week about a special initiative they put into place for Friday's James Baldwin Day.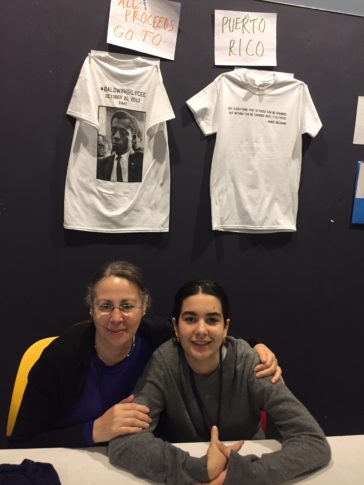 Baldwin Day is an initiative of the Secondary English Department and the first of its kind at the school. Students across the high school put their regular subjects aside for the day and immersed themselves in the works, ideas and times of the great expat essayist, novelist and civil rights activist. (Baldwin's work is as relevant today as it has ever been. Visit the blog next week for a full report on the extraordinary day.)
The teachers were looking for a fun way for the students to get excited about Baldwin ahead of the day. Joelle Reilly in the English department stumbled upon an idea. She'd noticed a new "Timeline" logo appearing on student laptops around school. Turns out that Timeline is the name of a streetwear brand launched by three seniors, Julien, Bastian and Raymond, along with 10th-grader Margot. 
Mrs. Reilly thought she might engage them in the business of social good. She asked them if they would be willing to make a special Baldwin-Day shirt for students, with all proceeds to support relief efforts in Puerto Rico.
The students jumped at the chance, but they had only two weeks to turn the project around.
Not everything that is faced can be changed, but nothing can be changed unless it is faced.

--James Baldwin
"It was such a great idea," said Bastian. "Not only did we get to create a shirt with our name on it, but we got to help a cause."
"It was such a creative way to raise awareness and funds," said Julien.
Given the rapid turnaround time for the project, there was no time for pre-orders. They had to make good business decisions and do so quickly. What's the design of the shirt? What's the right price point? How to get seed money together to produce the shirts? How many to produce? How to reduce production costs to raise as much money as possible for Puerto Rico? How to think about sourcing?
In the end, all production costs for the Baldwin project were covered through matching donations from the Student Council, the APL and the school. Timeline produced 100 shirts, and sold them for $15 a piece, with all proceeds going straight to charity.
Business questions weren't the only concerns. The students understood quickly that creating shirts for their own brand versus creating something for a community and a cause required much collaboration, open ears and an open mind.
"In the back of our heads, we knew we had to please a lot of other people because it's for the greater good. Decisions to make weren't only ours," said Bastian.
Said Julien, "We had the opinions of so many people to think about, and it's really good that way. We literally have threads with 60 points of view on them."
The shirts arrived for sale on Tuesday.  Working a table with Mrs. Sifi in Vie Scolaire on Thursday morning, Margot said she and the team had been concerned that at $15 each, the cost of the shirt might be high for students. She was altogether moved by the number of students who simply made a donation outright to the cause, and didn't even ask for a shirt.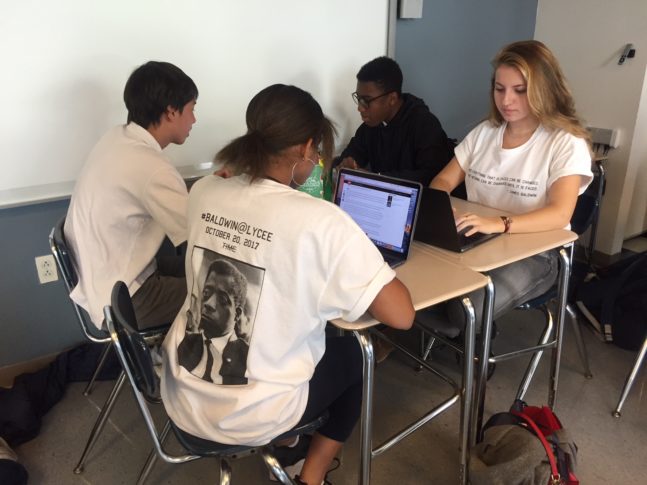 On Friday, it seemed the thinking eyes of Baldwin were everywhere. Students, teachers and administrators were all wearing the Time Line shirts.
"I bought one to support Puerto Rico, to support my friends, and it's a pretty cool shirt," said senior Chloe, wearing her shirt, as she worked in a Baldwin Day workshop on advocacy.
The Baldwin quote on the front of the shirt — Not everything that is faced can be changed, but nothing can be changed until it is faced — had moved many and seemed particularly fitting in her session, created by Dr. Arthur Plaza and Ms. Carine Gibert, on storytelling for social change.
Wearing her Baldwin shirt, senior Zai said, "We need to be talking about change in society today, and no one wants to face it."
Kudos to these students for taking a risk to make a difference. By the end of the day on Friday, the Timeline team had sold almost every shirt and collected $1620 for Puerto Rico relief.
"What a great accomplishment," wrote Mrs. Reilly in an email to the students. Oui!