We're traveling around the world this Saturday, May 13 during the Lycée Français de New York's annual Spring Fair. Spring Fair chair, volunteer parent Stéphanie Bismuth, mother of CE1 student Lucie and incoming MS student Stella, shares all you need to know about this fun globally themed community event!
Spring Fair is such a memorable community event in the life of the Lycée. How did you get involved?
I am a parent delegate with the APL, and when they approached me about it, I thought, why not!
The Spring Fair is a lot of fun. My kids love it. They can run around with their friends and enjoy seeing everyone from school in a different context. They love the macaron! My husband's American, and he loves coming out to the fair to see his children having fun. He likes to try the French cheeses and the nice ambience…

We all love the theme!
The theme this year is "Around the World." The Lycée community is multicultural like New York City, and I started to think about Jules Vernes, and his book "Around the World in 80 Days" and his balloons, and voila! I was also thinking about our world today and very much liked the idea of a theme that shows our children how to be open and feel at home in the world.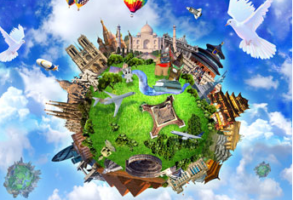 The country booths are a highlight. What countries are represented this year?
Many parents, especially first-year parents!, have stepped forward this year to do a country booth. Spring Fair visitors will find food, costumes and activities that represent each country. We have a number of countries represented that we've never had before. We're excited about the many new booths from North Africa and the Middle East, including Algeria, Iran, and Morocco. We have a Puerto Rico booth, too. Stop by for pina colada, non-alcoholic of course! Our guests will be happy to know that the Swiss booth returns with raclette and chocolate!
Did we hear correctly that slime-making is an activity this year?
Yes, slime! Children love it right now, and they're going to enjoy making, scenting and coloring their own slime. It's one of many activities! Children can do anything from glow-in-the-dark basketball to cookie decorating to science activities like coding and robotics. The Maker Space will also be open, where children can make their own rubber stamps. A cool virtual reality experience will take place in the Media Lab.
Is there anything else we should know?
We'll have two performances during the day. Our children's choir will perform at 11am in the cafeteria, and the adult choir will perform in the afternoon.
The Spring Fair is green, naturally, with an earth-day booth and the unveiling of the pre-K students Green Thumb project 11:30am at the tree-bed by the 76th Street entrance.
We're asking everyone to be green and bring their own bags to the fair this year.
Click here to sign up for activities.