In the week ahead, LFNY musical theater will perform a show about being in a show, A Chorus Line, in the 32nd annual school musical under the direction of Remy Loumbrozo and Story McPhee, with choreography by Caroline Blanco.
The Secondary students voted to perform this show from a list of legendary musicals that included Fame, The Pyjama Game. What is it that the students love so much about the show, which was originally performed on Broadway from 1975-1990, making it the longest-running show in Broadway history at the time?
A Chorus Line tells the story of 17 dancers pursuing a Broadway dream to be part of a chorus line. The show's plot focuses on the private lives of young and veteran chorus dancers, as they describe coming of age and finding in the art of musical theater a welcome escape from difficult lives.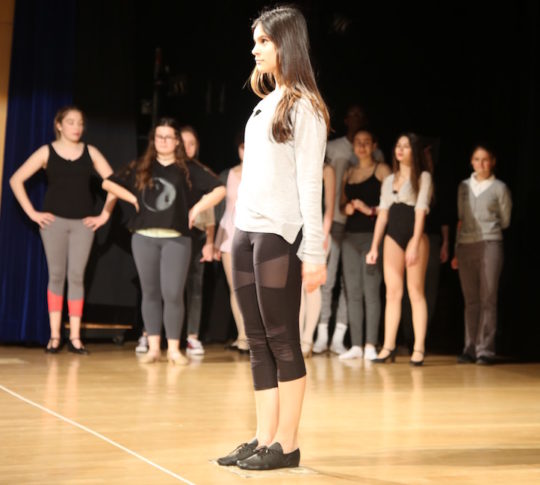 Says Arthur Whitman, English teacher and the Lycée's resident musical theater aficionado at Wednesday's rehearsal, "Back in 1974 the show's original director, Michael Bennett, worked with some friends and brought all these actors together to the Public Theater. They sat in circles and told their stories." The stories were recorded and put into a book and eventually written to music by the legendary Marvin Hamlisch.
Says student Yasmeen, who plays Sheila, the smart-allecky outspoken child of a distant father and a ballet-dancer mother. "My life is not like hers, of course, but I understand Sheila. In the school's after-school musical theater program, I feel like can be myself. I understand how being on stage can be 'a place to go'. "
Sheila, Maggie (played by Terminale student Sarah), and Bebe (played by 1ere student Alice) sing one of the most moving numbers of the show, "At the Ballet". To bring a French touch the show, Remy and Story added a fourth part into the piece, "Le Ballet", from their show French Toast and sung in French by 1ere student Agathe, which fits beautifully into the original score. "It's a clin d'oeil to the school," says Remy.

Watching the rehearsals on Wednesday evening, it was hard to separate fact from fiction, as stress mounted on stage for the students to get dance parts right. The dance numbers in this show, especially the opener, "I hope I get it," are not easy says Remy.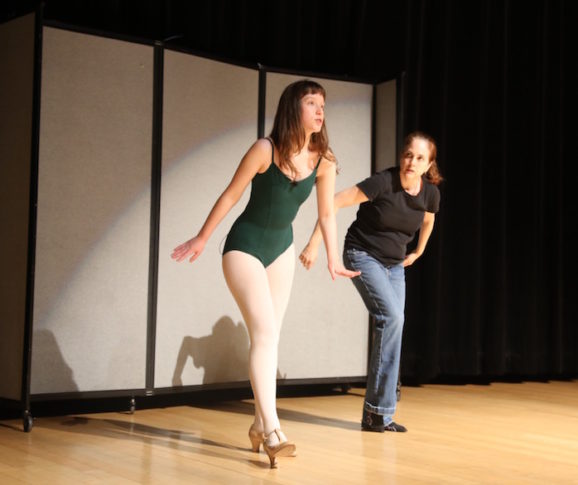 But you're all going to love this one. I am sure of it. Don't miss Kamila in the role of Cassie, the seasoned performer in the show who is beckoned back to Broadway and sings and dances to one of the show's signature solo numbers, "The Music and the Mirror."
The show has some fabulously funny and touching roles for the guys. From Bobby, played by Roman, and the character Paul, played with a touch of sadness by Abarry, we find humor and heartbreak.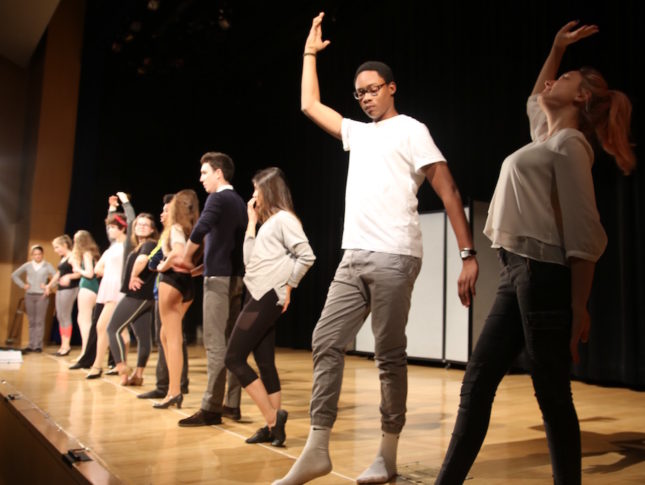 Says Mr. Whitman, much of the actors' stories were adapted to give them more drama and distinctiveness for the show, but the story of Cassie and Zach, the musical's narrator and director, played by Terminale student Mael, and whose voice is heard throughout the show, came true to life. Donna McKechnie, who played the original Cassie, married Michael Bennett for a time after A Chorus Line went to Broadway.
The original show was a singular sensation, winning Tonys for Best Musical, Best Score for Marvin Hamlisch, Best Director and Best Choreography for Bennett, as well as Tonys for McKechnie and Sammy Williams as Paul.
"The score is so simple and so inventive, and it's very moving. I think it's the greatest musical ever written," says Mr. Whitman. Take his advice and see all our fabulous student performers in this very special high-school production.
Book your seats here for Thursday (4/27) or for Friday (4/28). I hope you get'em.
All photos by Clémence Rebourg.