The Lycée's middle-school team competed in the High School Division against a combination of rookie and veteran teams. The engineering challenge was to build a robot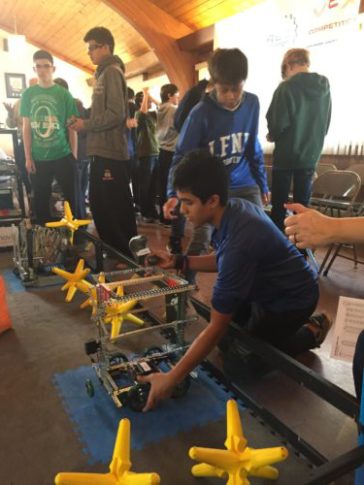 that could shoot foam stars into a zone around an opponent robot. The team arrived at the competition with high hopes and was welcome by veteran teams with some very powerful robots. At first, they were intimidated, but then they quickly focused on getting their robot ready. The energy switched to excitement about what the team could potentially build!
The qualifying matches started. The Lycée team was up first. In this Vex Competition, the teams play with two random alliances – one "red" and one "blue" – composed of two teams each. The matches run for a 15-second "autonomous" period, where robots operate on their own, followed by one minute and 45 seconds of "driver-controlled" play.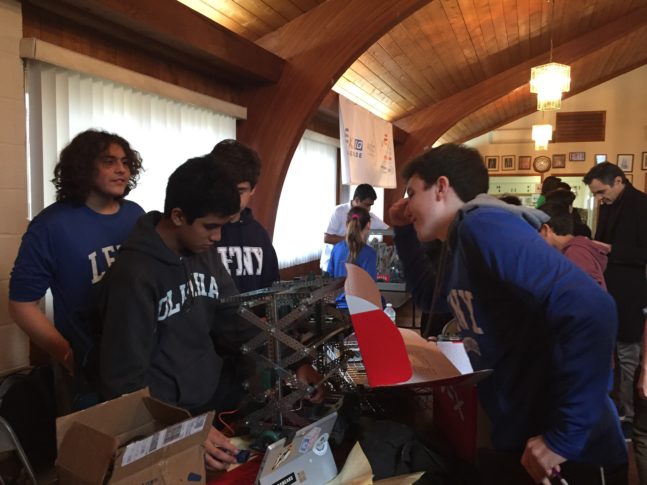 The objective of the game is to score points by throwing foam stars into their opponents' zones. The LFNY Team played as the red alliance and scored enough points to win their first match. The entire tournament got off to a great start for the team.
Inspired by their first veteran alliance, they turned to enhancing their robot.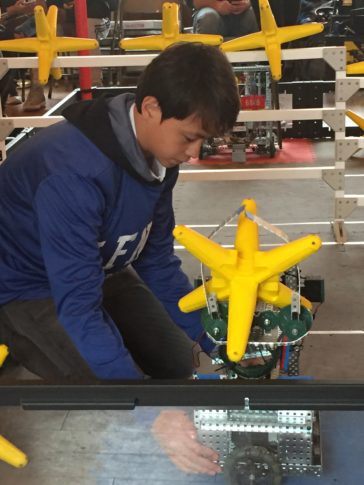 With very little time between matches, Arthur, one of the team's computer programmers, focused his attention on improving the robot during the autonomous period. To code the robot to behave on its own adds crucial points to the final score. After several matches, with much hard work and persistence, the robot was finally able to perform autonomously, scoring the team points in some of the matches.
In the meantime, the competition's judges made their way around the teams to interview them. The LFNY team presented its engineering notebook and answered questions on teamwork, engineering and coding.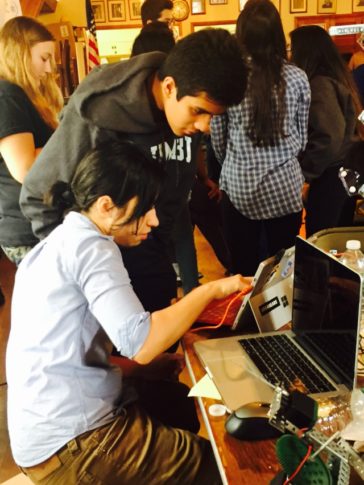 After several matches, the qualifying rounds came to an end. The LFNY team became quiet. They were certain their run had ended without winning enough matches. Three representatives of our team were lined up by ranking, while the rest of the team helped  to start to packing up. One by one, the qualifying teams were called. Finally, the announcer called, "LFNY" (!), and our team advanced to quarterfinals. The team was thrilled to have made it through and had fun playing their final matches.
Our robotics engineers in-the-making are more excited than ever to get back to the Maker Space and build larger and more powerful robots.