Avec son regard d'artiste et de parent du Lycée, Inma Barrero aidée d'une foule de parents, d'enseignants et d'étudiants bénévoles vont transformer le Park Avenue Armory pour notre Gala, le 4 février prochain, avec des sculptures flottantes à partir de tissus blancs offerts par la communauté du Lycée.
Entre des sessions créatives dans le Maker Space, la cafétéria du Lycée et son propre studio, Inma nous a confié comment elle a amené à la vie le thème du Gala "Toi + Moi = Beyond the Self".
All photos courtesy of Gerald Forster.
What inspired you to be part of the project?
What's special to me about the LFNY Gala is that it's a community project for our children. When the Gala co-chairs, Claudia Fleming Bitar, Orla Coleman, Monique Frumberg and Jordan Phillips approached me with this year's theme, "Toi + Moi = Beyond the Self", I was really inspired.
There's the collaborative aspect of the theme, the idea of people working together, and there's humility in the concept of a community making a difference in the lives of others. It was also important to me that the environment of the event be reflective of the fact that we are a tightly woven, diverse community.
I had created a sculpture using my children's old white shirts, and thought that it would be a good idea to collect all the old, worn-out shirts from our community, not only our students, but anyone who comes into contact with the Lycée and transform the Armory with this white fabric.
Plain white fabric is a humble material. We might wear a white t-shirt or shirt every day. We might sleep on plain white sheets, or use plain white napkins for example. Why not create something out of piles and piles of this material that passes through our hands, unnoticed each day.
How will it look?
We really want the guests of the Gala to see how the immense, empty space of the Armory can be filled with our community's effort. Giant sculptures created from the fabric will be suspended from the ceiling above the tables and along the s-shape of the silent-auction tables, inviting people to come and explore the many items on auction.
In the dining area, we've created backlit centerpieces for each table with the fabric remnants. Each centerpiece is distinct, as we are as individuals, but taken together they bring light and a feeling of warmth to the space.
High above the dining area is a center sculpture, created from the many white shirts of all kinds and sizes our community donated. The arms of the shirts join together as if holding hands, a beautiful metaphor what we can achieve when we come together.
I understand there is a significant human element to the space.
The central sculpture of joining hands is at the heart of a special performance that will take place during dinner.  The sculpture will come to life!
I am so grateful to our music teacher Remy Loumbrozo and to Blanca Li, dancer, choreographer and a former Lycée parent, who is creating this living sculpture that will bring dancers from our own community (students, teachers, mothers and fathers!) together with the students in our Primary chorale for a special performance. I won't say too much more on that. You'll have to come to the Gala to see it!
How did you get it done?
It took the participation of many hands to be sure, many donations of white shirts, sheets, pillow cases, you name it! Thank you.
It also took a lot of sweat equity as we like to say, and a belief among everyone involved that we are doing something for a greater purpose. The volunteers are very much a part of the pieces we are creating. They are present in the work and in that way each piece is infused with individuality. I am amazed by the commitment and enthusiasm.
And, of course, it takes much courage from our community members who will participate in the performance.
I am so grateful to everyone who has been working for weeks, during student dialogue hours, after school in their spare time to assemble the many pieces.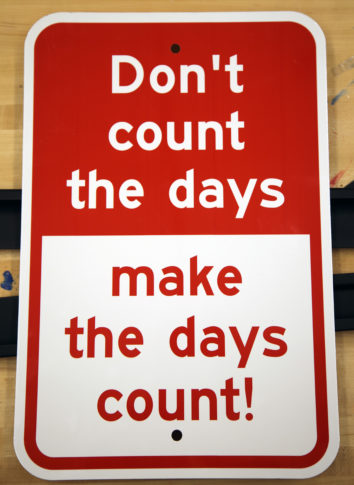 How does the signs project fit in with the work?
The signs project is the brainchild of co-chair Orla Coleman. Her concept was a student-driven one, where she asked students to come up with slogans in English and in French to inspire each other. The slogans were made into streets signs that are posted in the school and will be part of a fun photo booth the night of the Gala.
What do you hope that people take away from this project?
My hope is that this approach to creating an environment and atmosphere at the Gala involving our entire community continues to be a tradition. We have a community of many creative people, and I hope we can tap other artists at the Lycée to create a unique community experience for the Gala in years to come…
There's still time to buy tickets. Visit lfnygala.org.