Le thème du Gala cette année, "Toi + Moi = Beyond the Self", est une célébration de l'esprit de communauté et des services rendus aux autres. Le Lycée rendra honneur à Christy Turlington Burns, militante, entrepreneur sociale et fondatrice de l'association Every Mother Counts. Nous avons demandé aux organisatrices de l'événement, Jordan Phillips, Orla Coleman, Claudia Fleming Bitar et Monique Frumberg de nous raconter ce qui nous attend au Gala 2017 du Lycée Français de New York.
Dites nous en un peu plus sur le thème du Gala, "Toi+Moi=Beyond the Self."
Il y a un lien direct entre l'idée d'esprit de communauté et de service avec l'enseignement que nos enfants reçoivent. La Citoyenneté – enseigner aux enfants à donner aux autres, à être les acteurs d'un changement positif sur la communauté et le monde qui nous entoure – est au coeur de la mission du Lycée.
Il y a aussi la dimension de communauté. Nous nous sommes fait de très bons amis au Lycée et il est réjouissant d'en retrouver beaucoup au Gala! Cela nous rappelle que le Lycée Français n'est pas qu'une école pour nos enfants mais aussi une communauté pour nos familles. Nous faisons partie d'un tout et lorsqu'on prend conscience de cela, on agit différemment, on s'implique davantage.
D'un point de vue plus général, nous pensons qu'il est très important, aujourd'hui plus que jamais, de travailler en tant que communauté pour promouvoir la compréhension, l'acceptation et l'intégration des autres.
Pourquoi avoir choisi Christy Turlington Burns comme Lauréate ?
Christy est un modèle de courage, un exemple à suivre d'entrepreneur pour les élèves du Lycée. Après une expérience difficile pendant sa grossesse, elle est devenue militante en faveur des conditions de santé maternelle à travers son association Every Mother Counts. Nous sommes inspirées par la manière dont elle a utilisé sa notoriété comme vecteur pour faire la différence dans la vie d'individus partout dans le monde, en Haïti, en Syrie, au Congo et, ici, à New York.
Vous avez travaillé pour transformer à la fois l'expérience et l'environnement du Gala d'une manière extraordinaire, comment vous-y êtes vous prises?
Le concept de l'environnement du Gala, cette année, émane de la vision de l'artiste Inma Barrero qui est aussi mère d'élève du Lycée. L'idée d'Inma était de créer un environnement qui reflète l'expression de notre communauté unie et réunie, de représenter notre communauté avec des tissus.
Au cours des deux derniers mois, nous avons collecté auprès de la communauté du Lycée, des t-shirts et des morceaux de tissu blancs. Sous la direction de Inma, des volontaires, parents et enfants, ont créé des sculptures de fleurs en tissu qui vont emplir de leur blancheur magnifique l'espace caverneux de l'Armory.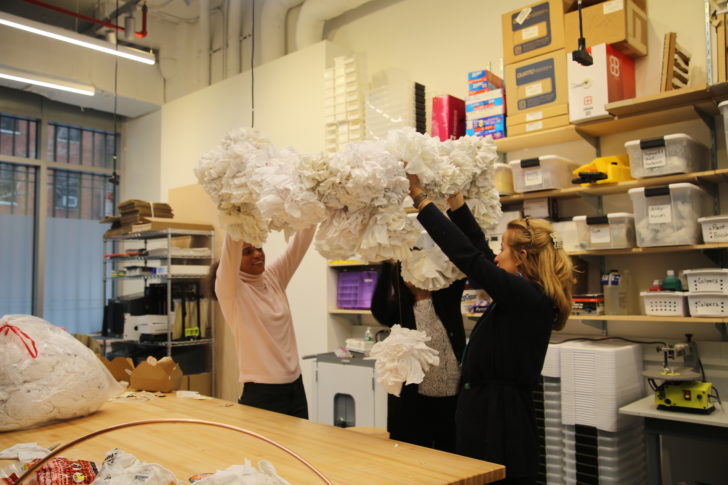 Son oeuvre comportera aussi une figuration symbolique de la communauté se tenant les mains. Suspendue au plafond de l'Armory, cette sculpture sera au centre de l'espace dîner de l'Armory, et constituera le point central de la performance des parents et élèves du Lycée créée par la choréographe et ancienne parent du Lycée, Blanca Li. Nous sommes infiniment reconnaissants envers tous les volontaires qui ont participé à cet extraordinaire effort collectif !

En quoi consistent la vente aux enchères et les enchères silencieuses?
La vente aux enchères et les enchères silencieuses organisées par Brook Hazelton de chez Christie's sont des moments clés de la levée de fonds au Gala. Nos objectifs cette année sont de nous concentrer sur des expériences qui rassemblent les gens et d'avoir des objets pour tous les budgets. Les enchérisseurs trouveront tout ce qu'il veulent, des grands crus, des bons cadeaux pour de nouveaux restaurants, des classes de méditation et des cours de fabrication de chocolat pour les enfants à la vente aux enchères silencieuse. Le jour du Gala, les enchérisseurs pourront, par exemple, s'offrir 6 jours et 5 nuits dans le très convoité Meadowood Napa Valley luxury resort et des tours de circuits en Ferrari. La vente aux enchères silencieuse sera ouverte à toute la communauté du Lycée le 18 janvier alors prêtez l'oreille "au coup de marteau"!
La participation des élèves est toujours un grand moment.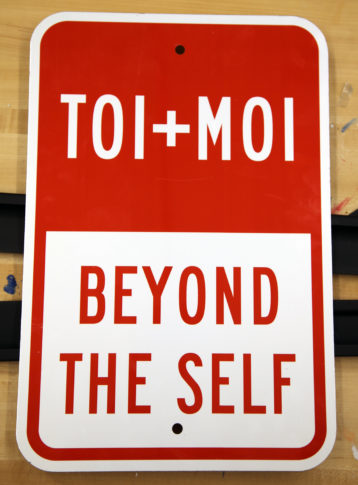 Les élèves du Lycée sont très présents cette année à travers leur projet "street-sign". Nous leur avons demandé de nous proposer des slogans en français et en anglais au sujet du bien-être émotionnel et de l'altruisme. Avec le département Art du Lycée, nous avons créé une série de panneaux signalétiques qui seront accrochés partout dans le Lycée les semaines précédant le Gala. Ces panneaux seront aussi visibles dans l'Armory le soir du Gala.  
Bien sûr, la création des fleurs et des sculptures est l'oeuvre des nombreux parents et enfants de la communauté du Lycée.
Qu'est-ce qu'il ne faut absolument pas manquer lors du Gala 2017?
Nous avons travaillé d'arrache pied pour transformer l'espace caverneux de l'Armory en un lieu chaleureux, ouvert et universel. Du décor en tissu blanc aux djembés africains qui accueilleront nos invités, en passant par la performance musicale du groupe nominé aux Grammy Awards SOFI TUKKER, ce Gala sera une soirée inspirante marquée par l'esprit de communauté de tous nos invités.
Merci infiniment à tous les membres de notre communauté qui ont contribué à faire de cet événement un grand succès pour notre École.
Pour acheter vos billets, allez sur: lfnygala.org
Suivez-nous sur la page Facebook du Lycée pour les dernières nouvelles.