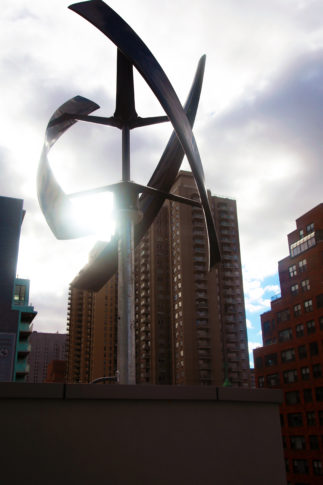 You've surely noticed the environmental movement happening in NYC. Whether it's in the news, fashion, food or technology industries, we keep hearing these two words: "going green." They lead us to change the way we think about how our buildings are conceived and maintained. We start to ask ourselves: How much do I affect the world and people around me? In what ways can I reduce my carbon footprint and impact on the environment? Little by little, the Lycée is tackling these questions and finding new eco-friendly solutions to help us make better choices at school.
One of the major steps taken in this direction is the York Wing construction project. Our new building was carefully designed to be highly energy-efficient. Following the example of our main buildings, the architects at Ennead took full advantage of natural light by using translucent glass that admits in as much natural luminosity as possible in every classroom. In terms of heating, they chose special dual-pane windows covered with a low e-coating to protect the inside of the building. Today, the Lycée is Silver LEED-certified. LEED (Leadership in Energy and Environmental Design) is a green building certification program that helps us use our resources efficiently. We hope to keep earning points to become gold certified…
NOVEDA Technologies systems, an energy savings company, was brought on board to help us better monitor our energy usage. Our maintenance team has been working hard with NOVEDA to install customized dashboards to meet our energy reporting and analytic needs. These energy dashboards allow us to analyze past and current energy usage to determine any recurring trends and create innovative strategies to reduce electrical waste. One of the electronic units we are attentively measuring are the classroom Smart Boards. "We want to save as much energy as possible and make sure teachers switch them off at the end of the day, as they use quite a bit of energy. If they are still on, we can let the IT team know which ones need to be shut down," explains Terrence Kennedy, our facilities director, who is himself an active member of the Green Schools Alliance, an organization that fosters whole school sustainability.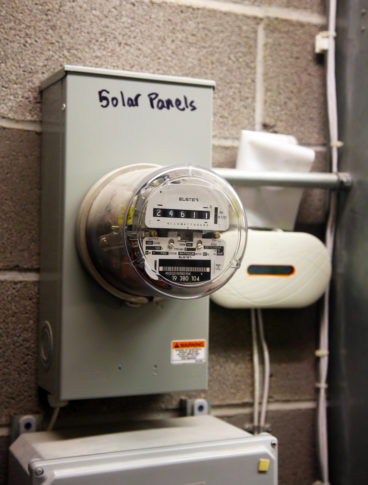 NOVEDA also allows our team to moderate our new renewable energy initiatives, with the solar array on the 6th-floor Primary rooftop playground and the wind turbine on the York Wing rooftop, a gift of the Class of 2013. The solar array creates about 3.5kW of renewable energy on any given sunny day, and the wind turbine produces 1.5kW. We are also proud to announce an important initiative through our buildings' LED (light-emitting diode) light bulbs. The LED lamps have a lifespan and electrical efficiency much greater than the linear and compact fluorescent lamps we had before. "This lighting upgrade is clearly visible on our NOVEDA dashboards and is a huge environmental enhancement for our school," adds Mr. Kennedy.
We don't just focus on electricity. Our aim is also to reduce water waste. Did you know that 3.9 trillion gallons of water are wasted every month in the United States? The school has a water meter connected to the HVAC (heating, ventilating, and air conditioning) cooling towers to help us consume much less water.
How can our student body learn about being eco-friendly through NOVEDA systems?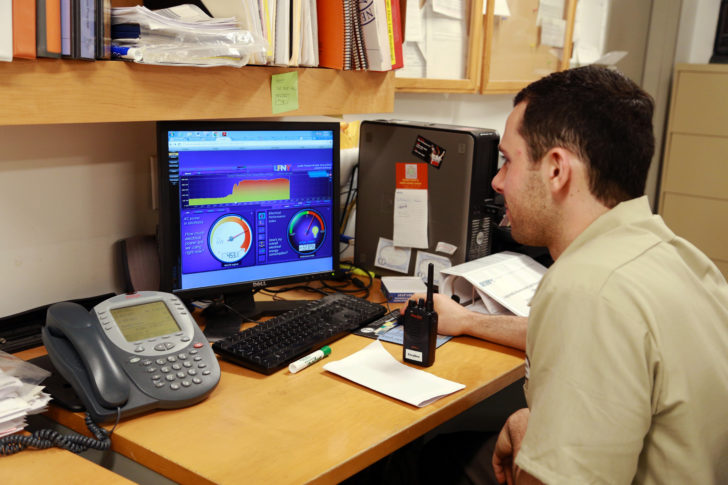 Students and teachers will have access to an account for the NOVEDA dashboard that will allow them to see the main dashboard page. Students can then take a look at the solar generation, wind turbine power, total carbon use per day and the different amounts of electricity used. After gathering all the data, we can encourage students  to compare their consumption with other classes and come up with ways to reduce electrical waste in the classrooms and at home.
Excited to learn more about the sustainable progress at the Lycée? Want to see our wind turbine up close on the rooftop? This is your lucky chance! Stop by our NOVEDA booth (2nd floor) on York Wing Community Day and start exploring…
LFNY York Wing Community Day
Hours: 10am to 3pm
Sign-up for key events in advance
Volunteers still needed: click here.
See you soon!