Une des priorités du Lycée Français de New York est depuis longtemps ce que les éducateurs appellent "l'éducation axée sur les lieux", faisant ainsi référence à une forme d'apprentissage qui dépasse le cadre de la classe au sens littéral et figuratif et qui intègre dans les programmes et les enseignements l'environnement immédiat où un établissement scolaire se situe. "Une éducation axée sur les lieux", affirme le Center for Place-Based Education and Community Engagement, "familiarise les élèves avec le patrimoine, les cultures, les paysages, les opportunités et les expériences d'une région locale, utilisant tout cela comme matériel pour l'étude des langues, des mathématiques, de l'histoire, des sciences, et de tous les autres sujets du curriculum".
Quelle chance donc pour nous qui faisons partie de la communauté du LFNY de pouvoir à la fois vivre et profiter de New York, et en même temps habiter et puiser notre inspiration dans un autre lieu époustouflant: Paris, la Ville Lumière!
En effet, grâce aux remarquables efforts de sa directrice, Pascale Richard, à qui nous sommes tous reconnaissants, le Centre Culturel du Lycée Français de New York présente une offre d'événements passionnants qui sont autant d'opportunités inouïes pour nos élèves, nos professeurs, nos personnels non-enseignants, nos parents, mais aussi nos amis, nos voisins et nos visiteurs, de découvrir la vitalité bien particulière et l'universalisme incomparable de la culture française et francophone, tant pour les choses de l'esprit que pour les arts de la scène, et au-delà. Ouvrant nos portes vers la ville qui nous entoure, Mme Richard traverse simultanément l'Océan atlantique afin d'inviter dans notre école des scientifiques, des musiciens, des acteurs, des journalistes, des artistes et bien d'autres encore de renommée internationale, toujours pour le bonheur et l'édification de la communauté du LFNY. Vous pouvez cliquer ici pour voir le programme hors pair de notre Centre culturel pour 2016-17. N'hésitez pas à vous joindre à nous si vous êtes disponible.
Jamais Paris, et tout ce que cette ville phénoménale incarne, n'aura été plus vivant et tangible sur l'avenue York que mercredi soir, lorsque nous avons eu l'honneur d'accueillir au Lycée Français de New York Piaf! The Show, une production musicale qui se jouera en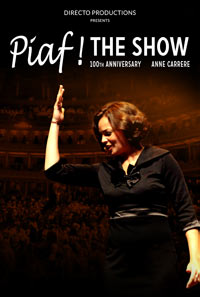 janvier prochain à Carnegie Hall. Devant un public comblé de 360 élèves et adultes, la chanteuse et actrice française aux dons exceptionnels, Anne Carrère, a interprété une trentaine d'airs inoubliables du répertoire d'Edith Piaf, l'une des plus grandes voix du monde, avec en arrière plan de superbes photographies de Paris datant des années 1940 et 1950, lorsque "la Môme" éblouissait les gens à travers la planète.
Pour certains, et notamment beaucoup d'élèves,  la musique de Piaf fut une magnifique découverte. Ils connaissaient le nom de la célèbre cantatrice et peut-être même la mélodie d'une chanson comme "Non, je ne regrette rien", mais ils ne comprenaient pas forcément l'immensité de son talent et ne mesuraient pas nécessairement le degré de perfection avec lequel elle personnifie les idées que nous associons à la France. Quelles idées te viennent à l'esprit, j'ai demandé à l'une de nos collégiennes. La beauté, l'amour, le courage, la liberté, m'a-t-elle répondu. Pour d'autres, principalement les plus âgés dans l'assistance, dont les larmes ont coulé lors de la formidable interprétation que Carrère nous a faite de la chanson "L'hymne à l'amour",
Piaf! The Show a renforcé un lien déjà existant avec la France et tout ce qui est français. Une soirée magique, a rapporté un adulte; ce spectacle nous a plongé dans la culture française comme si nous nous trouvions carrément à Paris, flânant dans les rues, discutant de questions philosophiques autour d'un café ou encore débattant de questions politiques sur un banc au bord de la Seine.
Le travail que Pascale Richard fait, avec le soutien des participants au Fonds annuel du LFNY qui méritent notre gratitude profonde, nous enracine à la fois à New York et à Paris. Cependant, ce qu'il fait de plus significatif est peut-être de rendre nos élèves citoyens à part entière de deux capitales du monde, mais également de quelque chose qui unit et transcende ces lieux précis: la Culture, entendue comme «un ensemble d'oeuvres artistiques et intellectuelles" qui rend compte "des valeurs, des coutumes, des croyances et des pratiques symboliques par lesquelles les hommes et les femmes vivent" et à travers une forme de "grâce laïque" favorise "un processus de développement spirituel et intellectuel"** de l'être humain qui permet au bout du compte de voir "la vie en rose".
*Chanson rendue célèbre par Edith Piaf, avec les paroles de Jean Dréjac et la musique d'Hubert Giraud (1954).
**Terry Eagleton, Culture (New Haven, CT: Yale University Press, 2016).