Every graduating class is different. These differences manifest themselves at the Lycée in the proportion of students choosing certain Bacs and filières, or the percentage of students who immerse themselves in athletic teams or community service activities. We can also see the differences in where our graduating Terminale choose to attend university.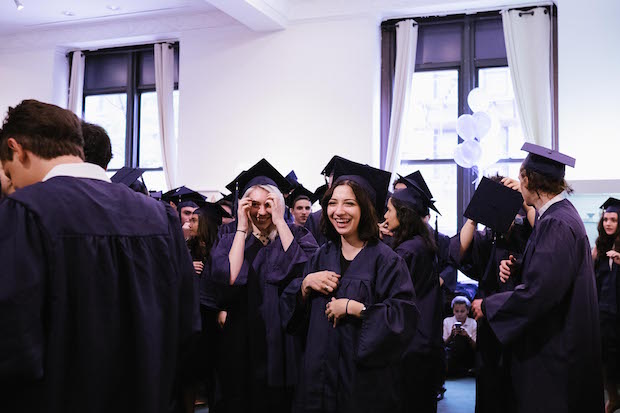 Students from the class of 2015  waited with nervous anticipation backstage at 92nd street Y for their graduation ceremony on June 11, 2015. 
The Class of 2015 will be known for bucking matriculation trends at the Lycée, and choosing their own path. We are proud of this class for making decisions that reflected their academic interests and cultural preferences.
In particular, the Class of 2015 chose French universities in a greater proportion than in years past. A full 19% of the class chose French institutions, compared to 3% last year. Most of these students chose traditional universities, though four will be enrolling in classe préparatoire.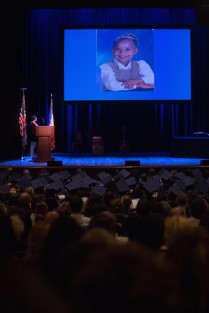 We were also delighted by the growing interest in UK universities. Eight percent of the class is matriculating in the UK, as opposed to 3% last year, with two stellar matriculants to the London School of Economics. In the US, there was a decline in applications, with 30% matriculating in the US, whereas last year 54% matriculated in the US. Note that there are several students headed towards art schools here in the US and across the world.
During graduation, photos of "fidèles" (students who have been at the Lycée since nursery school) are shown on the screen.
As our students are internationally inclined, naturally curious and adventurous, we expect them to continue to investigate their educational options worldwide. It is the mission of our office to know and understand each child, and help each one evaluate the many choices available to them.
United States
– Barnard College
– Boston University
– Columbia University
– Cooper Union
– Emory University
– Fashion Institute of Technology
– George Mason University
– George Washington University
– Georgetown University
– Harvard University
– Loyola Marymount University
– University of Miami
– The New School – Eugene Lang College
– New York University (3)
– Northwestern University
– University of Notre Dame
– Princeton University
– Reed College
– Savannah College of Art and Design
– Smith College
– University of Southern California
– University of Vermont
– Washington University in St. Louis
Canada
– Concordia University (8)
– HEC Montreal
– McGill University (15)
– University of Toronto (2)
– Syn Studio Art School
– York University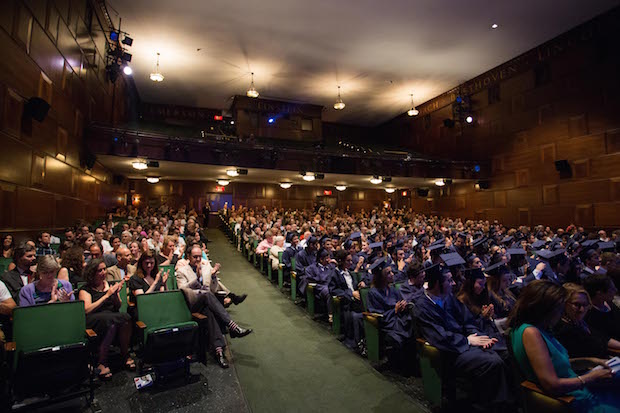 The graduation ceremony at the 92nd Street Y is always well attended by families and Lycée teachers alike.
France
– ESAG Penninghen
– IÉSEG Lille-Paris
– IPAG Business School – Campus Paris
– École Pour l'Informatique et les Techniques Avancées
– Lycée Henri IV
– Lycée Jean-Baptiste Say
– Lycée Louis le Grand
– Lycée Madeleine Daniélou
– Université Pierre et Marie Curie
– Sciences Po Paris – Campus Le Havre
– Sciences Po Paris – Campus Reims (2)
– Sciences Po – l'Université Pierre et Marie Curie Dual Degree
– Université de Strasbourg
– Université de Technologie de Troyes
– Université Paris Diderot
– Université Sorbonne Nouvelle (Paris III)
United Kingdom
– Goldsmiths College, University of London
– Imperial College London
– London School of Economics (2)
– University of Exeter
– University of East Anglia
– University of Warwick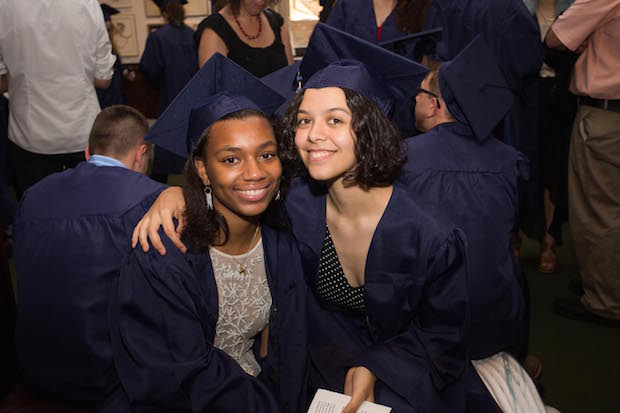 Two graduates of Class of 2015.
Italy
– Università Bocconi
Portugal
– Nova School of Business and Economics
Spain
– IE University (2)
– St. Louis University – Madrid
Switzerland
– École Hôtelière de Lausanne
Turkey
– Koç University
Multinational Degree Programs
– Sciences Po – Columbia Dual BA (3)