It wasn't all about the food. Even though I have to say the sandwiches were pretty great. Translation Club was really about the words. The author's words, our words, and the connotations that went with them.
Translate a feeling, not a meaning
On my first Translation Tuesday, I was excited (especially about the free cookies), but I was mostly nervous. There I was, the only student in a room filled with French and English teachers, ready to translate the very first sentence, but unsure about which tense to use. I decided to go with the passé composé – only to use the wrong auxiliaire. Once I corrected myself, five literature teachers smiled and kindly explained to me that usually some form of the imparfait is used in descriptions. In this case, we would use the plus-que-parfait.
"I knew that, I said to myself, I took the Brevet last year; I should know this stuff."
A few sentences later, after a few complications with the passé simple, I was already getting the hang of all these tenses and it was getting easier to recognize when to use which.
Now it was time to get to the fun part.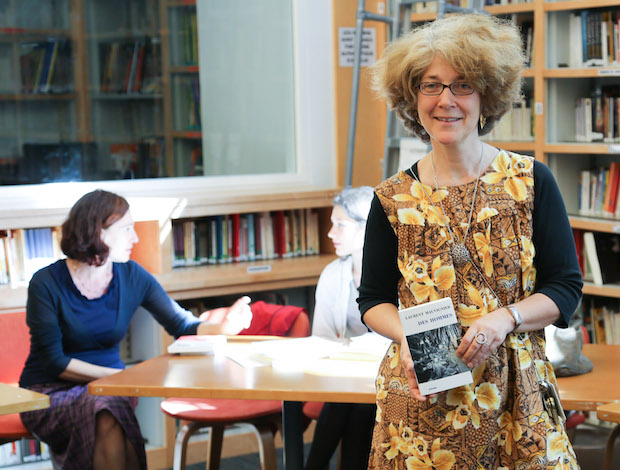 Head of the French department Isabelle Milkoff co-organizes the Translation Club along with French teacher Anne-Marie Gassié and English teachers Joelle Reilly and Margaret George.
To put it simply, I would say Translation Club taught me this: it's not about getting the meaning across, it's about getting the feeling across. Which isn't as easy as it sounds. In the text that we worked on, Eveline from The Dubliners, it was important to chose terms that would accurately portray the characters as James Joyce did. "Épousseter" trumped "depoussiérer" and "comptait-elle" replaced "en avait-elle l'intention" because we needed something more colloquial. Joyce was careful to use words that would correspond to Eveline's. Which meant that we needed to be careful as well.
In order to correctly translate Joyce's story, we absolutely had to understand the subtle meaning he hid behind the words. Ms. Reilly's senior class was reading The Dubliners so we were often guided by her analytical explanations. Sometimes however, debates formed in room 505. Whether Eveline sent out a cry of anguish to the seas or if she was surrounded by the seas as she sent out her cry is still a question unanswered by our translators.
Franglish and hand gestures
When I said that Translation Club was all about getting the feeling across, I wasn't kidding. Sometimes when our french vocabulary failed us, we resorted to hand gestures. "She stood among the swaying crowd" turned into a group of students swaying their arms in the air before becoming "Elle se tenait au milieu du mouvement de la foule". I even sang Edith Piaf's "La Foule" in hopes that the lyrics might help us find the right words. Sounds were tricky as well:
"No, it's more of a CRAAACK!"
"Claquaient?"
"No… it's kind of like CRUNCH!"
" Crissaient?"
"That's the one!"
I should be clear, however: there is no need to be a literary genius to become part of Translation Club. (Although if you happen to be one, I would like to know what is keeping you from joining our team.) We're all here to learn and improve, so there is no need to be shy! Maybe your first language is Franglish. If that's the case, don't think that this will keep you from correctly transitioning from one language to another. Trust me, I also think dans les deux languages, and ça ne m'empêche pas de m'amuser in Translation Club. In fact, your closeness to both French and English can be ideal to detect those slight nuances in certain terms. And if in the midst in all this bilingualism, you excel in one language more than the other, your expertise can help us reach for those words buried deep in our vocab list.
You know what they say: il faut de tout pour faire un monde!
And in Translation Club, we definitely have both the French world and the English one.
Read a French student perspective on the translation club here.