Since the Lycée Jean-Baptiste Pointe du Sable (LJBPS) in St. Marc, Haiti opened its doors in 2011, the Lycée Français de New York has been sending delegations of teachers and staff to assist and support its faculty as the school grows. Each year the school adds an additional grade of 50 students. 

LJBPS is currently building dormitories which, when finished, will be able to house up to 40 students. The Lycée's longer-term goal is to send groups of our own students to Haiti to forge partnerships with the students of LJBPS, to learn about their school and its surrounding communities, and to develop service learning projects. 
LJBPS currently teaches 300 students from Petite Section/Nursery to CE1/3rd grade.
Today,  LFNY's service learning team is composed of a Primary service learning integrator  and Maternelle cycle head), Florence Germain; biology teacher and Secondary service learning integrator, Marie Odile Couture; and Director of Service Learning and Student Programs, Vivianne Kurzweil. The Lycée coordinates two visits to LJBPS and one visit to our school from LJBPS per year. Many LFNY faculty members have been working over the years with the Haitian school in assisting its teachers in outlining a French and English language-acquisition program and developing a science program.
On a recent three day visit to LJBPS, in January 2015, five LFNY faculty members, including Sory Koité, Young Kim, Gretchen Schell, Florence Germain and Vivianne Kurzweil, led several workshops.
First and third graders learned basic computer skills in the school's library, which was temporarily turned into a computer center. They discovered the AZERTY keyboard and how to type using all ten fingers. Two by two, they took turns sitting at laptops and following a typing program.

Students learn to use the AZERTY keyboard.
Bilingual science workshops focused on "growing." Students planted native pea seeds in the school's garden under the watchful eyes of the school's gardener, then visited its compost area to learn how soil nutrients are created.
In French and English classes, the focus was on curriculum development and collaborative work around reading and writing strategies with teachers, using Borel-Maisonny (French only), developing oral and written language and creating tools for differentiated learning.
A previous visit to LJBPS revealed the need for an alphabet puzzle to help pre-K students recognize letters and read words. Instead of simply buying one in the States, Elementary IT integrator Young Kim, Elementary ESL teacher Gretchen Schell and 9th-grade LFNY student Léo decided to create one themselves using the LFNY's new 3D printer. Many hours of trial and error from September until just before the January trip resulted in a 26 piece puzzle set, named Alphabites manufactured entirely at the LFNY!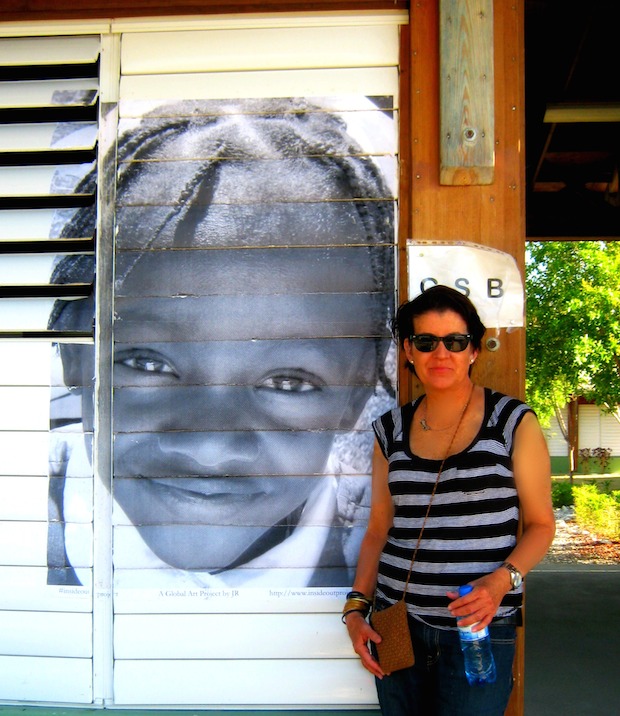 ESL Teacher Gretchen Schell next to a JR poster of female student from Lycée Jean-Baptiste Pointe du Sable.
Finally, in a nod to the LFNY's Gala honoree, photographer JR, Gretchen Schell submitted a proposal to JR's Inside-Out Project on the importance of girls' education in Haiti. The proposal was accepted and, thanks to the Inside-Out studio truck which turned her photos into posters, several posters of LJBPS girls were glued onto the shutters of campus classrooms.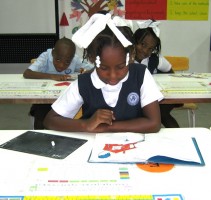 The posters caused quite a stir and, invariably, boys started asking why there were no male faces. Thus, the next proposal will be a project to reflect the importance of children's education in Haiti, and we are hoping to display additional (male) posters soon.
Our next visit to LJBPS will be at the end of April 2015. In May, LJBPS Head of School Michel Deschodt and a group of his teachers will visit our school for one week.
Photos and video by Gretchen Schell and Young Kim.