L'art est à l'honneur pour l'édition 2015 du gala du Lycée Français de New York, qui aura lieu le 21 février prochain à Park Avenue Armory. Le thème cette année "Sortir du Cadre – The World is Your Canvas," fait référence à l'art comme forme d'expression de soi et comme moyen de rapprocher les gens. L'artiste français vivant à New York JR sera l'invité d'honneur en raison de ses projets photographiques innovants et dont le rayonnement est mondial. Dans cette interview, l'une des co-organisatrices de l'évènement, Anne-Gaëlle Van de Weghe, explique pourquoi elle a décidé de s'investir cette année, qu'est-ce qui la séduit chez JR, et à quoi s'attendre le 21 février prochain.
LFNY: Pourquoi vous êtes-vous engagée à être l'une des co-organisatrices du Gala 2015?
Anne-Gaëlle Van de Weghe: Mon amie Amira Salaam Amro (co-organisatrice du Gala 2014, ndlr) m'a convaincue de participer cette année. C'est un grand honneur pour moi que de faire partie de l'équipe des co-organisateurs bénévoles (composée de Nastassja Balick Coppers, Anthony Coppers et Catherine Flores Sille) car nous nous entendons tous très bien. En fait, c'est même mieux que ce que je pensais, nous sommes tous très créatifs, nous travaillons pour une cause – le Lycée Français – qui nous tient à coeur, et tout le monde est très reconnaissant de notre travail.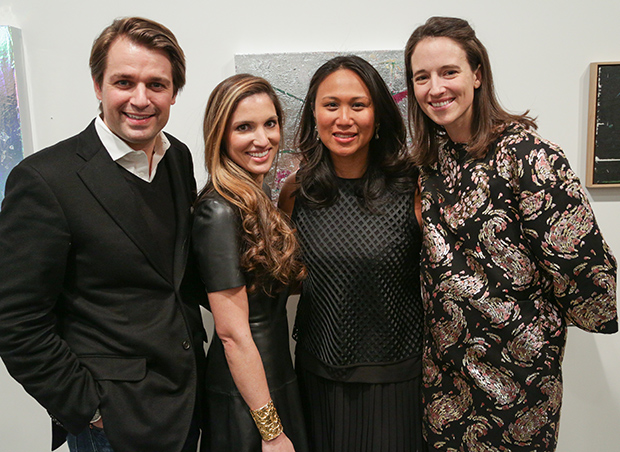 Les parents co-organisateurs du Gala 2015: Anthony Coppers, Nastassja Balick Coppers, Catherine Flores Sille et Anne-Gaëlle Van de Weghe.
Quel est le thème du gala?
Cette année, le thème "Sortir du Cade: The World is your Canvas" tourne autour de l'art. C'est un monde dans lequel j'ai grandi et qui est extraordinaire. J'ai moi-même travaillé dans une salle de ventes à New York, et mon mari est lui propriétaire de la galerie d'art Van de Weghe. De nombreux artistes ont fait part de leur générosité en faisant don de certaines de leurs oeuvres, que nous mettons aux enchères pour le Lycée.
Qu'est ce qui change cette année?
Pour la première fois, nous organisons une vente aux enchères en ligne de plus de 50 oeuvres d'art avant le Gala. Depuis le 30 janvier et jusqu'au 12 février, toute personne intéressée peut s'offrir une oeuvre d'art contemporain grâce à notre partenariat avec Paddle8, un site d'enchères en ligne. Il suffit de créer un compte, et la vente suit ensuite le même principe que sur eBay, sauf qu'il s'agit exclusivement d'oeuvres d'art. Toutes les oeuvres sont contemporaines, et de formats divers (lithographies, peintures à l'huile, sculptures…etc). Voici quelques-uns des artistes : Enoc Perez, Justin Adian, Harold Ancart, Patrick Demarchelier, Jon Pestoni, Inma Barrero, Sophie Calle, Bruce Weber, Takashi Murakami, Magritte, David Salle ou encore Aaron Young.
Faites vos enchères en ligne sur Paddle8.
JR est l'invité d'honneur du gala cette année, que pensez-vous de son art?
Ce que j'aime chez ce street-artist et photographe, c'est son message. Grâce à ses photos en très grand format de gens non célèbres affichées dans la rue, il donne une voix à ceux qui n'en ont pas, et leur permet de s'exprimer. Cela résonne particulièrement fort dans les pays en développement (Haïti, Palestine, Kenya, Brésil…) où ce sont les photos des dirigeants que l'on trouve affichées dans la rue, et non celles du peuple.
Infos et tickets pour le Gala, cliquez ici.