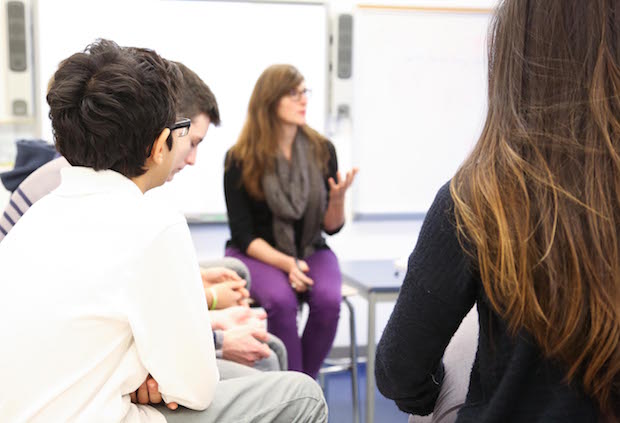 Secondary English teacher Jamie Laurens with her 9th grade advisory group on January 9th.
It's Friday, January 9th. I face a room full of questions, with a mind brimming with my own.
And so, I begin by asking.
My ninth grade advisees have formed a tighter circle than usual. They lean in.
What feelings do this week's events bring up for you?
Their faces show concern and sadness; concern for harmony, concern for the future of peaceful debate.
Which is more important: maintaining freedom from conflict, or maintaining freedom of expression?
They discuss how events ricochet through our life experience. Students who have been quiet in recent weeks become animated, informative. I follow their lead.
How has accessibility changed the exchange of information within and between cultures?
One student offers a metaphor: freedom of expression carries with it a responsibility, and yet cannot be taken apart. I hear in their voices the fresh critical vocabulary that is such a part of this pivotal year of their development.
Someone raises a concern: might the speed at which we process information lead us to be desensitized? How can we use a moment of silence to connect through empathy?
We sit quietly for a moment together.
In the class that follows, my English students take a moment away from Dickens' A Tale of Two Cities to address these same questions. What emerges is a shared notion that expression must remain far from the reach of violence. I hear this, knowing that we have weeks ahead to unpack, individually, and in groups, the complexity of this situation, the changes and needs of which it speaks. We are baffled. We reach out to all of victims and their families with our hearts and minds.
Later in the day I learn that as we work, marchers in Paris hold up thousands of pens, as Yale philosophy professor Jason Stanley calls them, "the ultimate tools of reason."
This week as France struggles to piece itself together, with our pens we will consider, weigh, counter, and connect. We will question, critique, and praise.
The students are growing before our eyes. I grieve with them, and with my adopted country. While we cannot predict how they, or we, will be affected by the events of this week in the long term, we can, in the knowledge that expression must survive, continue to raise our pens. In the classroom next week, I am eager for us to carry on.