Il ne fait aucun doute a mon avis que tout éducateur aurait réagi de la même façon. La curiosité est piquée et l'on veut en savoir plus à la lecture de la phrase suivante, trouvée dans une critique de livre publiée dans le New York Times: «S'il tombe dans les mains de la mauvaise personne, A Path Appears est un livre dangereux: surtout vous ne devriez pas le laisser traîner là où votre adolescent pourra le feuilleter.»*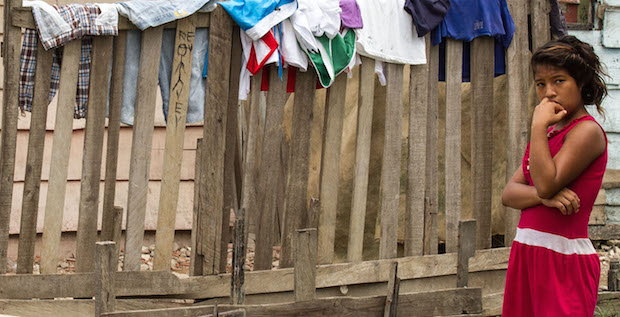 Image extrait du documentaire A Path Appears, basé sur le livre éponyme. 
Humm, me suis-je dit, tout en continuant à lire. «Nicholas D. Kristof et Sheryl WuDunn [les auteurs de l'ouvrage en question] vous montrent», écrit l'économiste de l'université d'Oxford Paul Collier, auteur de cette revue, «à travers de nombreux exemples qui sont autant de preuves sérieuses que l'on peut faire la différence dans la vie de gens piégés par la pauvreté.» Mais comment un tel message pourrait-il être explosif pour un adolescent, me suis-demandé? Et ainsi provoqué, je n'ai pas eu d'autre choix que d'acheter un exemplaire de l'ouvrage.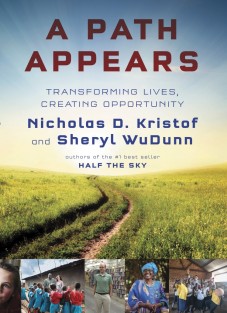 J'ai également demandé à certains de nos élèves ce qu'ils pensaient de la remarque du professeur Collier à propos de leur génération. En leur montrant le livre, puis en l'ouvrant sur un passage qui résume bien l'argument de Kristof et de WuDann, j'ai voulu savoir pourquoi l'on pourrait décrire A Path Appears comme étant dangereux chez des adolescents. «Le défi [que nous devrions relever aujourd'hui]», ai-je lu à haute voix, «est celui de favoriser une culture de l'altruisme et de l'empathie, cherchant à insuffler un instinct pour l'engagement social. Cela revient à montrer qu'il ne s'agit pas de vous ou de moi, mais de nous.»** Et j'ai continué avec la section suivante: «Participer à une cause plus grande que soi-même aide à la construction de nos réseaux sociaux, crée un sentiment d'accomplissement, nous fait sortir du lit chaque matin avec plus de ressort dans notre démarche, et nous aide à faire la différence dans la vie des autres, et cela donne un but à notre existence.»*** Des paroles perturbatrices en quel sens?
"Génération selfie?"
L'auteur fait de l'ironie, l'un de nos lycéens m'a répondu. Pour cet élève, Paul Collier essayait de rappeler aux adultes qu'ils avaient eux aussi été idéalistes par le passé et qu'ils devraient tenter de penser de nouveau comme des adolescents s'ils se souciaient vraiment du monde. Oui, a rajouté un autre, faisant valoir que tous les problèmes auxquels la planète fait face résultent des générations précédentes et la résignation n'est pas une option. Une autre élève s'est demandée si en réalité le professeur Collier n'était pas plutôt en train de critiquer les jeunes, souvent surnommés la «génération selfie». Peut-être sa provocation est-elle dirigée vers nous, a-t-elle poursuivi. L'écrivain veut nous dire que si nous ne faisons pas attention, nous pourrions grandir en oubliant ceux qui sont moins privilégiés que nous, mais cela n'arrivera jamais. Jamais, ont convenu les autres, citant des projets de service communautaire dans lequels chacun était personnellement engagé. Le fait que nous aimons la technologie n'a rien à voir, m'ont-ils dit; au contraire, les médias sociaux sont un outil TRES efficace pour initier le changement.
Bravo, ai-je lancé à la cantonade. Vous qui êtes élèves sont si passionnément résolus à avoir un impact que je savais que vous me répondriez avec perspicacité. Qu'en pensez-vous? Devrions-nous demander à notre bibliothèque de commander A Path Appears pour le LFNY? L'un des deux élèves à qui j'avais donné le livre a répliqué avec une citation tirée de la troisième page. Écoutez ceci, nous a-t-il dit. Une citation de Henry David Thoreau: «Il ne suffit pas d'être industrieux car les fourmis le sont aussi. Plus important est de savoir dans quel but vous êtes industrieux.» N'est-ce pas cette question à laquelle nous vous demandons de répondre au Lycée Français de New York? Oui, ont-ils entonné. Et nous devrions absolument acheter un exemplaire de cet ouvrage pour notre CDI!
*Paul Collier, "A Path Appears by Nicolas Kristof and Sheryl WuDunn", New York Times, 16 octobre 2014.
**Nicolas D. Kristof and Sheryl WuDunn, A Path Appears (New York: Alfred Knopf, 2014), p. 15.
*** Ibid, p. 315.