The Lycée Français de New York honored World Cup champion and New York Red Bulls captain, Thierry Henry, during its annual gala on Sunday, March 2. This year's gala, "L'esprit d'équipe – For the Love of the Game," celebrated the spirit of excellence, commitment and joy that participation in sports can foster in the lives of students. Nine hundred guests attended the event, raising $1.9 million to support the school's academic, after-school and cultural programs, as well as its scholarship fund.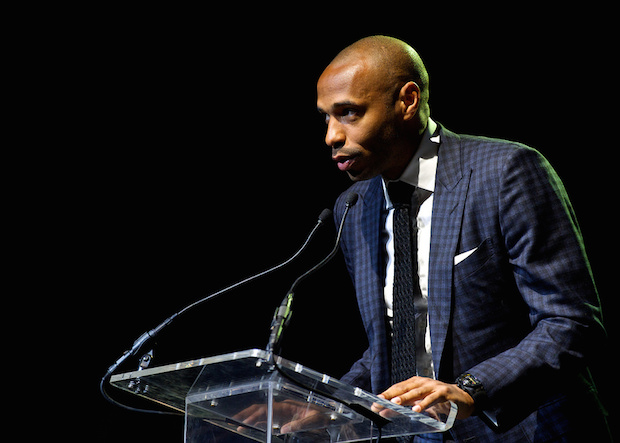 During the gala, Mr. Henry received the Charles de Ferry de Fontnouvelle award, named after the school's founder, for his record-breaking career on soccer fields around the world, and also for his commitment to promoting diversity and fighting racism in professional sports.
Led this year by co-chairs, Amira Salaam Amro, Bernadette Cruz Moxey, Emma Glon, and Nadine Kassouf Sayegh, the LFNY Gala is a highlight of fundraising activity at the school. The LFNY student chorale, senior student athletes and a special student cheerleading squad all took part in the evening in a celebration of school and team spirit. Aileen Agopian, Senior Vice President of Contemporary Art at Sotheby's, served as auctioneer during the gala's live auction. International DJ and producer Martin Solveig provided entertainment late into the evening.
Youri Djorkaeff, Mr. Henry's friend and teammate on the 1998 World Cup-champion French national team, introduced him during the award ceremony. "What I remember most about you, Thierry, during those games is that you had the courage to take action, and you did everything for your country," he said.
Henry posing with the LFNY Primary Choir.
In an interview on stage during the event with gala co-chair, Amira Salaam Amro, Mr. Henry talked about his early career and what it took to become a champion. "Passion [for the game] came because of my father. He was a great inspiration to me, " he said, continuing "I just wanted to play the game. I knew that I would need to work hard to succeed, but that talent would not be enough."
He also talked about his efforts as a spokesperson against racism and sexism in sports. "The first time I encountered racism on the football field – and it's not an easy thing to deal with – " he said, "I didn't want the game that I love so much to be spoken about in a bad way… you need to do something while you're active to make sure the generation coming after you doesn't have to suffer."
"Thierry Henry's presence at our gala on Sunday was an inspiration," said Sean Lynch, Head of School, Lycée Français de New York. "We are deeply moved by his message to our students about the courage to take action, the power of humility and determination, and the importance of holding onto our dreams to achieve happiness and success in life."