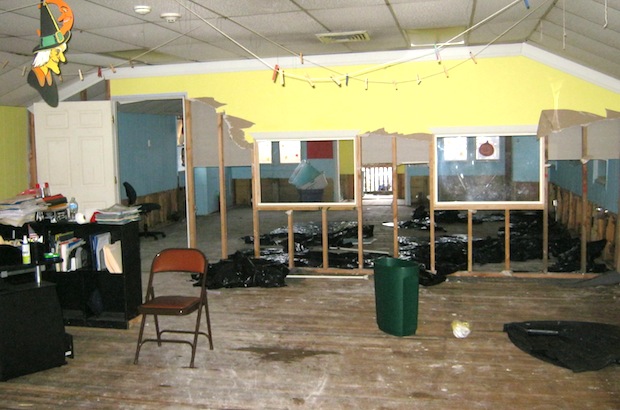 Inside Little Tots Red Wagon, right after Hurricane Sandy, in November 2012.
Just before Halloween 2012, Hurricane Sandy made landfall, destroying countless areas along the eastern seaboard from Florida to Maine. It did severe damage in New Jersey and New York. Breezy Point, located on the Rockaway Peninsula in Queens, New York (see map below), was particularly affected as it was flooded, flattened, and a large section burnt to the ground. Through the New York Board of Education, the Lycée Français was partnered with Little Tots Red Wagon, a preschool in Breezy Point that was devastated by the storm.
Little Tots Red Wagon was already at its temporary location in the Aviator Sports Complex when we met its director, Theresa Hyland. Mrs. Hyland moved quickly to secure rental space near Breezy Point so the school could stay open and families would not have to travel far to get their children to school. We are happy to report that Little Tots Red Wagon is now back at its original site in Breezy Point after construction was completed over the summer.
Dozens of brand new books!
Five cartons of new books for preschoolers were collected during our December 2012 Book Drive and stored for safekeeping at our school. They were finally delivered in November 2013 after the director gave us the green light. The school's new bookcases are now chock full of new books! Thank you.
A workshop with 10th graders from the LFNY at Little Tot's temporary location in January 2013.
The Lycée is very happy to have been able to help Little Tots Red Wagon during its year-long ordeal. Several members of our executive team along with school consultants traveled to Breezy Point one month after the Hurricane to assess the school's structural and financial situation. They also advised on rebuilding options.
A learning experience on both sides
From January through April, three Lycée Français classes , CM2, 3e and 2nde, visited Little Tots Red Wagon and ran workshops they had prepared with their teachers. Many of the mini-workshops were French-themed. During one visit, the preschoolers greeted LFNY visitors with an animated rendition of "Frère Jacques!"
The preschool was finally able to move back into its original location, one year later.
The 2012-13 Student Council wanted to help as well. It made a donation of $200 from money raised during the Talent Show. The Lycée is very proud to have helped Little Tots Red Wagon, however modestly, get through a very difficult year.