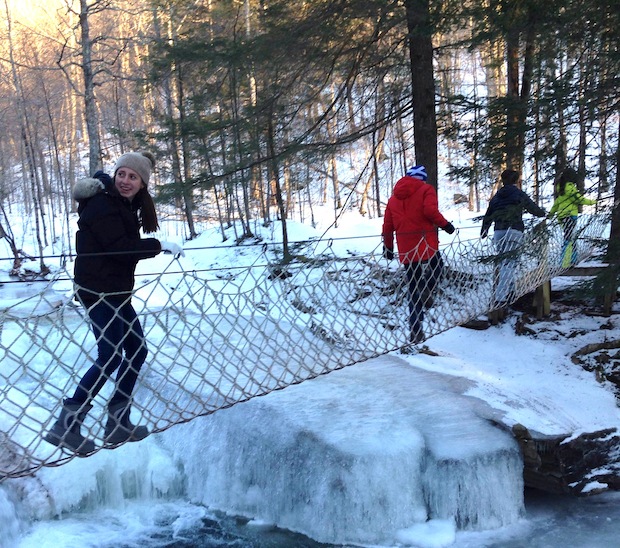 Fresh air and nature inspire the 10th graders to open up about their college plans and concerns. 
"…And in January, we're all going to go to an overnight camp together! Frost Valley!" My audience of freshly scrubbed, back-to-school tenth graders looked simultaneously shocked and intrigued.  Qu'est-ce que c'est, Madame Pluta?
It was all right there in the PowerPoint presentation.  College counselors, Secondes (tenth graders), and their advisors would be traveling together on buses to Frost Valley, the YMCA camp, in early January. "Come have fun and talk a little bit about universities" my hopeful slide read.  As the students chirped their immediate reactions to the seats around them, my thoughts turned to the practical: "We had better make the most of this opportunity."
Talking about college early on
In my six years at the Lycée, my colleagues and I have noticed an increasing sense of college angst among the students we counsel.  As the college counseling office only starts to meet the students formally in Première (eleventh grade), their perspectives are the ones we know best. More and more often, I've felt the disconcerting feeling that comes from a first meeting with an eleventh grader who is already consumed with college anxiety.  "Please take a deep breath and relax.  You've only just begun.  It's going to be okay," is what I wish to say.  Instead, I sigh and I listen.  I know that the fears of these students have been building over the course of months, or years, and that they are very real.  If our counselors could make them go away with a phrase, a sentence, or even a novel, we surely would.
Director of College Counseling Christine Pluta talking with students at Frost Valley.
In the absence of a working magical incantation, we sought to address student anxiety in a new way, earlier in the process.  Last year, Mr. Lynch and I met to discuss a strategy.  "Maybe if we could meet students earlier, in Seconde, and get to know them, we could help them see that there is a college plan waiting for them in Première."  Throughout our discussions, Mr. Lynch was very enthusiastic and full of great ideas, particularly around the introduction of a career choice discussion.  "Where would you want to meet with them?" he asked.  As a not-so-outdoorsy person, I was surprised to hear myself say, "At a place like Frost Valley."
Uncovering sources of stress and concerns
I thought that Frost Valley would give us a snowy, sylvan reprieve from our city lives, and allow us to distance ourselves from the stressors we face at school.  I hoped that we would hike together, play games and take our meals at the same table, showing the tenth graders our genuine interest in them and their well-being.  Then we could talk about the future, focusing on careers and leadership, and discussing what college counseling is, and how we can help them next year.  The plan was to have inclusive conversations, both formal and informal, that showed the tenth graders that this is a two-way street.  They would learn that we need to value each other's opinions and concerns in order to make the college process work well.  It all begins with trust.
I'm happy to say that Frost Valley was, in our eyes, a huge success.  We know this because of the warm feelings we have developed for the Secondes and their incredible sense of openness, curiosity, candor, and fun.  In our conversations, we uncovered sources of stress, concerns for the future, and also a shared sense of optimism.  We encouraged the Secondes to explore their capabilities and interests, to ask questions, and to recognize that the big decisions don't have to be made yet.  When it's time to make choices, they will have plenty of help.  A good outcome is inevitable.
Now that we have made the most of our Frost Valley experience, the support of the college counseling office is no longer an abstract concept to the Seconde.  It is our hope that this will make all the difference.